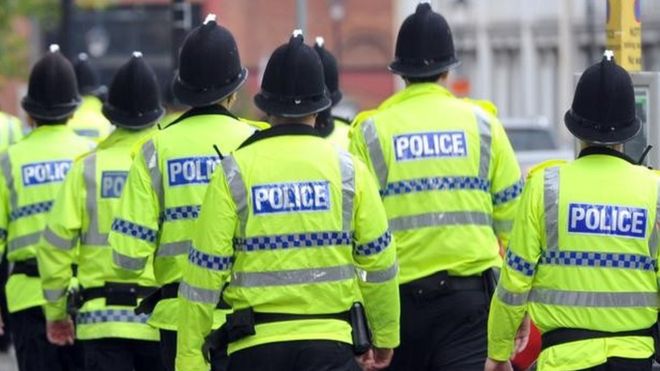 Official figures show the number of police officers and staff in London subjected to racist or religious hate crime has risen by more than 50% in two years.
667 police officers in total were victims of racist or religious hate crimes in 2016-17, up from 428 in 2014-15, a freedom of information request has revealed.
Offences recorded included harassment, racially or religiously aggravated grievous bodily harm, as well as non-violent offences.
The Metropolitan Police said it was committed to prosecuting those that abuse its officers in this manner.
Compared to 40% of the capital's overall population, 13.4% of the force is made up of black or ethnic minority officers, a total of 4,215 officers employed by the Met Police.
"In this day and age, I just don't get it," said Ken Marsh, Chairman of the Metropolitan Police Federation.
"But we're doing everything we can to assist our colleagues in any way we can when it's brought to our attention."
Leroy Logan MBE, a former superintendent and founding member of the Metropolitan Black Police Association, said he was saddened by the findings.
"We're talking about things that happened 20, 30 years ago but are coming back," he said.
Mr Logan described his own experiences saying, "When I was a constable, I'd get it internally and externally, especially from youngsters."
"One time I was in an estate in Islington and I heard someone shout the n-word from the balcony. I think unfortunately we are not seeing public attitudes improving today."
As well as the 667 officers, 54 civilian police staff were victims of hate crime in 2016-17, bringing the total to almost two offences each day last year.
Labour's shadow police minister, Louise Haigh, said: "There must be a zero tolerance approach to race or religious hate crime and it is vital officers are able to carry out their roles protecting the public."
Scotland Yard said, "Police officers have a duty to record all crime that they become aware of, including when either they or their colleagues are victims.
"Any form of hate crime is unacceptable and our officers and staff should not be subject to this kind of abuse.
"As an employer, we encourage our officers and staff to report these incidents so we can give them the support they need and bring perpetrators to justice."