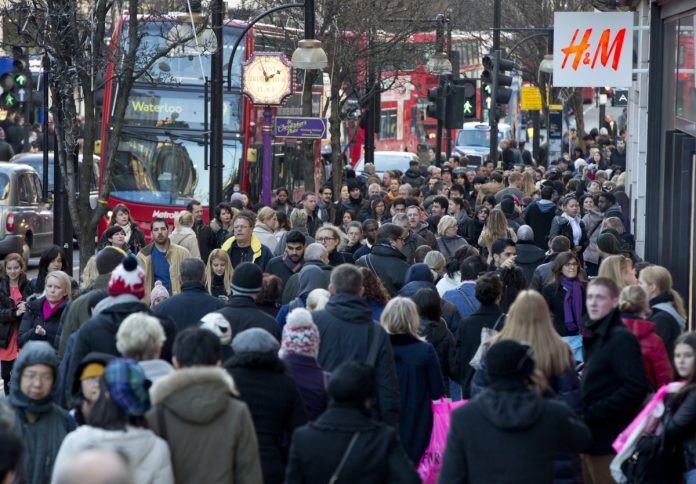 Compared with the previous month, retail sales grew in August by 1% with sales of clothing and non-essential items reported as major contributors.
Sales volumes were 2.4% higher when compared to last August, according to the figures released by the Office for National Statistics (ONS).
It was the 52nd month in a row that sales have risen.
The ONS also said that prices for non-food products had risen at their quickest rate in 15 years. It added the underlying pattern was of growth.
The figured add to the evidence of rising inflation, follows numbers released recently, contributed to, in part, by the drop in the pound's value since the Brexit referendum.
Last week, the Bank of England said this was likely to peak at 3% from its August figure of 2.9%.
If inflation and the economy continued to grow and remain strong, the institution said it was likely to raise interest rates.
The figures show rising prices have not put consumers off spending, despite higher living costs not being matched by wage increases.
Official figures last week showed wages in the three months to July were 0.4% lower in real terms than in 2016.
The ONS said, "Year-on-year contribution of food stores remains flat, while there was a fall in the contribution of growth within petrol stations, showing that contributions to the overall growth came from non-essential items."
"The UK consumer continues to show remarkable resilience, with retail sales in August blowing economists' forecasts out of the water," said Ben Brettell, senior economist, at stockbrokers Hargreaves Lansdown.
"Spending has defied expectations of a slowdown since the Brexit referendum, and currently seems to be holding up despite weak wage growth and above-target inflation.
"This could bode well for economic growth – the UK economy is heavily reliant on the consumer, and economists had expected falling real incomes to eventually translate into weak retail sales. If this fails to materialise, the economy could see a stronger second half to the year."