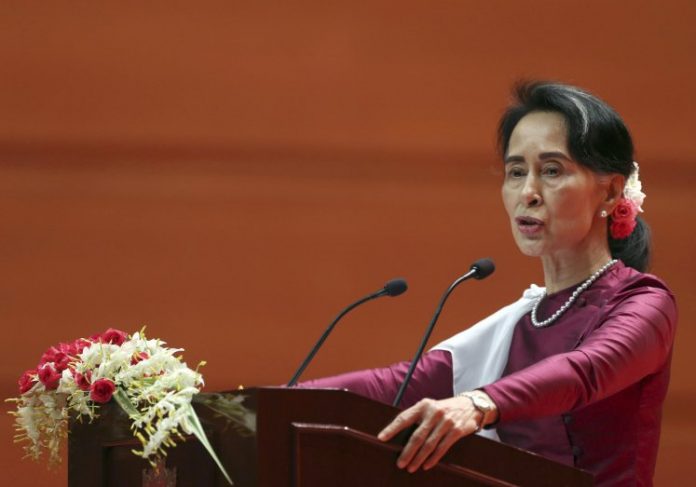 Aung San Suu Kyi, Myanmar's de facto leader, has said her government does not fear "international scrutiny" over its handling of the ongoing Rohingya crisis.
Ms Suu Kyi was addressing the nation for the first time on the crisis and in her speech denounced as a "mix of untruths and victim-blaming" by Amnesty International.
Over 400,000 Rohingya people, mostly Muslims, have fled the violence of Rakhine State in Myanmar for neighbouring Bangladesh. The United Nations has branded the treatment of the people as amounting to "ethnic cleansing" but Suu Kyi did not criticize the actions of the army and said she did not fear "international scrutiny".
"I'm aware of the fact that the world's attention is focused on the situation in Rakhine state. As a responsible member of the community of nations Myanmar does not fear international scrutiny," she said.
"There have been allegations and counter-allegations … We have to make sure those allegations are based on solid evidence before we take action," she added.
The Nobel Peace Prize winner also claimed that there had been "no conflicts since 5 September and no clearance operations" against the country's Muslim minority, though Human Rights' organizations and the refugees have disputed this, insisting the violence has continued to rage.
She did not use the term Rohingya – calling the group Bengali Muslims instead.
Delivering her address Suu Kyi said she and her government "condemn all human rights violations and unlawful violence", but did not condemn the actions of the military, instead stating that it had been instructed to exercise restraint and avoid "collateral damage" in its pursuit of insurgents.
In response to the speech, Amnesty International said Aung San Suu Kyi's speech showed the leader and her government were "burying their heads in the sand over the horrors unfolding in Rakhine state".
James Gomez, Amnesty International's regional director for south-east Asia, said "Aung San Suu Kyi's claims that her government does not fear international scrutiny ring hollow."
"If Myanmar has nothing to hide, it should allow UN investigators into the country, including Rakhine state. The government must also urgently allow humanitarian actors full and unfettered access to all areas and people in need in the region."
"She is trying to claw back some degree of credibility with the international community, without saying too much that will get her in trouble with the [military] and Burmese people who don't like the Rohingya in the first place," said Phil Robertson of Human Rights Watch.