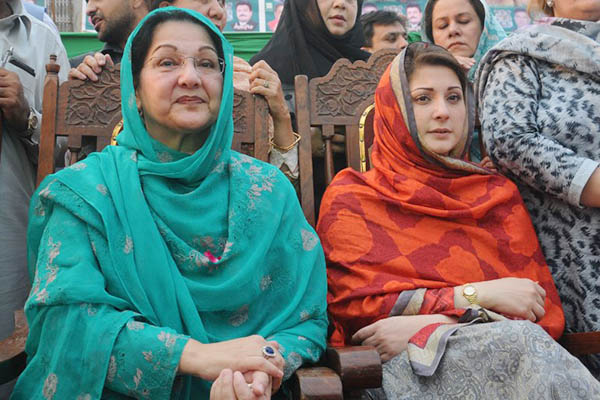 Kulsoom Nawaz, the wife of the former prime minister who was ousted following a corruption enquiry, has won a by election in Lahore.
Ms Sharif stood in place of her husband, following his disqualification in July.
According to local media, she won 61,254 votes, 14,188 more than her nearest rival, although the result was closer than expected in an area normally a stronghold for the former prime minister's party.
Both the ruling Pakistan Muslim League party and the opposition saw the vote as a referendum following Supreme Court's decision to fire Sharif.
The Sharif daughter, Maryam Nawaz, spearheaded the campaign for the PML-N party and her mother, who is in London for cancer treatment.
After the results were announced, Maryamn Nawaz told the supporters, "This is not an ordinary victory."
"You have defeated not only people who were in the field but also those who are invisible."
She said the result showed how the people had rejected the "unjust decision" made by the government to disqualify her father.
If the results are confirmed, however, it would show a drop of around in 7% in the party's share of the votes.
Following an inquiry after the leak of the Panama Papers last year which linked Nawaz Sharif's children to offshore companies, the Supreme Court barred from him from office.
The Supreme Court dismissed a petition for a review, though Sharif maintains his innocence.
Local media suggested there was a large turnout for the election, with long queues forming outside polling stations.
The election was contested by all the major parties, and also two new Islamist parties.
Sharif's Muslim League's main competition came from the PTI party, led by Imran Khan, and and the Pakistan People's Party of Bilawal Bhutto Zardari, son of Benazir Bhutto.
Maryam Nawaz alleged that several PML-N party workers had been threatened ahead of election day.
The 43-year-old, who does not hold an office position but is a high-profile figure in Pakistan, sought to portray the vote as a "people's verdict" on her father's dismissal.