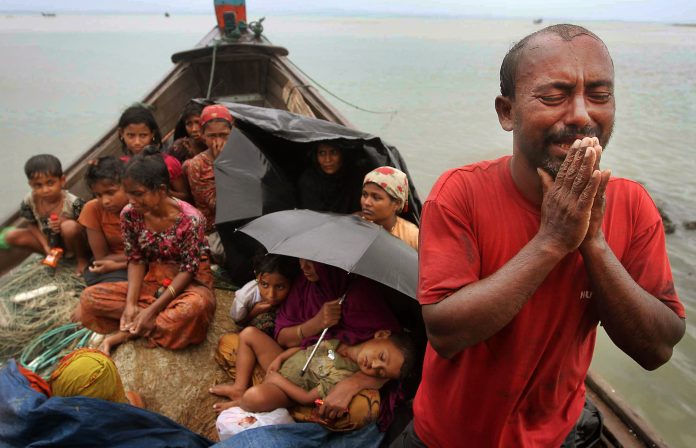 Myanmar top General Min Aung Hlaing has blamed Rohingya people for the crisis that has led to hundreds of thousands crossing into Bangladesh, accusing "terrorists" of attempting to build a stronghold in the nation.
He said that the Rohingya "have never been an ethnic group" and denies accusations of targeting civilians in an offensive there, forcing Rohingya to flee, saying instead that it is responding to deadly militant attacks.
The United Nations has condemned the actions, saying that it amounts to ethnic cleansing against the Rohingya – the vast majority of whom are Muslims.
UN Secretary General Antonio Guterres warned, on Saturday, that the country's de facto leader Aung San Suu Kyi had "a last chance" to halt the army offensive before the situation becomes "absolutely horrible".
Gen Min Aung Hlaing urged people and the media in Myanmar to unite over the "issue" of the Rohingya via a Facebook post.
According to Hlaing, the military operation began after 93 clashes with "extremist Bengalis" – referring to Rohingya insurgents – that began on 25 August.
He also claimed that the violence in the nation was an organized attempt by the Rohingya to form a stronghold in Rakhine State.
There were attacks on police posts last month by insurgents, who claim to be acting in protest of the forces' treatment of the minority Rohingya.
The response, however, has been internationally condemned, with villages being burned, allegations of rape against Rohingya women and men being beheaded, forcing hundreds of thousands to escape to neighbouring Bangladesh.
"They have demanded recognition as Rohingya, which has never been an ethnic group in Myanmar. (The) Bengali issue is a national cause and we need to be united in establishing the truth," he said in the post.
On Saturday, UN chief Antonio Guterres urged de factor leader Aung San Suu Kyi to stop the offensive in her address to the nation which is to be delivered on Tuesday, warning that if she failed to so, "I don't see how this can be reversed in the future".
Aung San Suu Kyi declined to attend the UN General Assembly to be held in New York, and has maintained that the crisis has been distorted by lies from the Rohingya and the media.