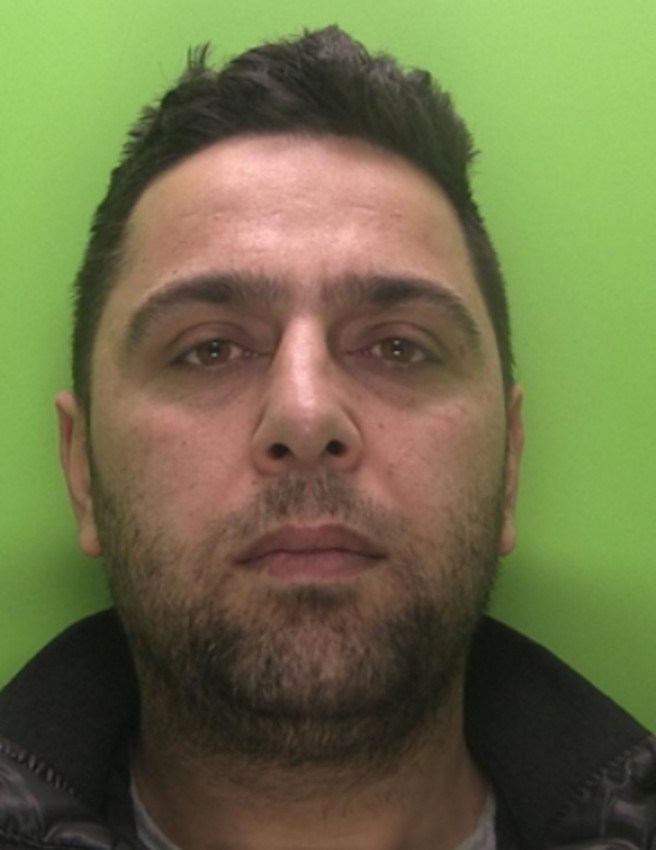 Farhad Mostafa was jailed for eight years for raping a woman in his car after she believed she was getting into a taxi.
The 32-year-old, of Kildare Road, Nottingham, attacked the woman in Elm Bank Drive, Mapperley Park, on 4 February.
The victim gave him £10, Nottingham Crown Court heard, thinking he was a cab driver but when she tried to leave the car, he locked the doors.
Mostafa, a married man, stopped at a petrol station in Nottingham city centre to buy condoms during their drive.
Mostafa denied raping the woman, saying the she 'wanted some fun' and 'wanted sex'.
The victim asked Mostafa for a lift, Nottinghamshire Police said, after she had tried but failed to hail a taxi on Sneinton Dale following a night out.
Mostafa agreed to take the woman, but after dropping off two other people and taking her money, he parked in Elm Bank Drive, locked the doors and raped her.
According to Mostafa, who is married, she said "thank you" to which he responded, "you're welcome".
Prosecutor Clive Stockwell asked Mostafa, "You are telling the jury she was absolutely desperate to have sex with you?"
He replied, "Yes".
The court heard that the woman had told Mostafa that she was gay and in a happy relationship.
"It was dead stupid. I shouldn't even have got into the car. My phone had died. I didn't know where I was," she told police in an interview.
The victim said that after they left the petrol station, she told Mostafa "just here will do", to which he responded, "you are not getting out here".
"I said 'can you please just unlock the doors? I want to get out and go home'," she continued.
She said, "I kept saying to him 'I don't want that. I don't do that," after he ran his hand up her thigh but Mostafa refused to let her go.
The court heard his DNA was recovered from a condom found at the scene and his fingerprints were also on the condom packet.
The victim's "immense bravery" was praised by Detective Chief Inspector Leigh Sanders who encouraged anyone who had been a victim of a rape or sexual assault to come forward.