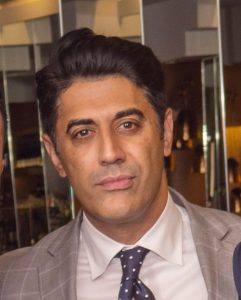 Qasim Majid is a technology entrepreneur and the CEO and founder of Wow Zone – a digital marketing agency. He has been in the digital industry for 20 years. He is the Vice President of the Asian Business Chamber of Commerce (part of the Greater Business Chamber of Commerce) and has been featured in Forbes, was a spokesperson for UK trade and investment and has recently featured in the Huffington Post.
Twitter: @cas_majid
More so than ever now we are seeing the rise of personal branding. Whether its CEO's from large conglomerates, to owner managed businesses, personal branding is becoming an integral factor to increasing awareness, audiences, trust and ultimately business revenue.
It's no secret that social media plays and essential part, and has made it somewhat easier for business owners to get there name out there, and position themselves as an authority in their chosen field.
There are, however, a few excruciating things entrepreneurs should avoid making when it comes to building online reputation/authority.
This sits fairly and squarely in two areas, what I would call "Egotistical Social" and "Used Car Salesman Social".  Both work independently and alongside each other beautifully.  It's because the individuals behind them have similar personality characteristics, they're both narcissistic !
Egotistical Social Posters – is all about giving it the "The Big I am" – look at me I'm the dogs dangly bits. These posts are usually from 'plastic entrepreneurs', who show off a certain lifestyle, have their pictures taken next to Lambos, wearing their fake Hublot watch (that's for all you watch connoisseurs out there, fake or genuine, Hublot does not sit in watch royalty) and their hideous Christian Louboutins shoes.
Used Car Salesman Social Posters – they are in the main lovely people, but kidding themselves they're business people.  They just haven't stuck at anything long enough or found what works for them. It's usually because they are chasing money and the lifestyle of the Egotistical Social poster – (oh the irony). We all have these characters on our friends lists, they are forever pushing some new network marketing fad, or dare I say it Crypto Currency. The name 'Crpto' says it all, need I say anymore ! They post screen shots of how much money they've earned that day, selling the dream, which by the way comes for free, by working only 5 minutes a day.
So, if you really want to make a positive impact towards your personal brand using online mechanisms such as social media, avoid the above like the plague. They do not build longevity, positive social proof, and eventually over time, will have a detrimental effect.
Rather, you should focus on giving the best advice possible, be authentic and more importantly honest with your audience.
Lets get one thing clear, I'm not saying you shouldn't share your good news, absolutely you should. But it should be done in timely manner, which is  thought through with a touch of class. That way you'll build a personal brand which will attract people towards you, as we call it 'Attraction Marketing'.