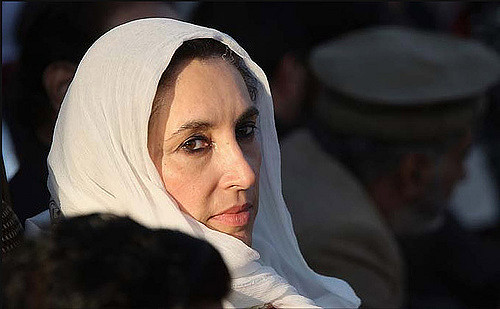 A Pakistani court has acquitted five suspected Taliban members of conspiracy to murder former Prime Minister Benazir Bhutto.
Judges said there was a lack of evidence against them. Two policemen were jailed for 17 years, however, for negligence in failing to prevent the killing.
Ex-President Pervez Musharraf, who had been charged in the case, was not present in the court, and was declared a fugitive of justice by the court.
Ms Bhutto was killed 27th December 2007 in a gun and bomb attack in which she was shot in the neck.
Ex-army chief Musharraf denies any part in the killing and has not commented on the verdict. The 74-year-old has lived in self-imposed exile since last year, and now faces having his property confiscated.
Of the ruling, Ms Bhutto's son Bilawal Bhutto Zardari, chairman of his mother's Pakistan People's Party (PPP), said on twitter, "SMBB case decision is disappointing & unacceptable. Realse (sic) of terrorists not only unjust but also dangerous. PPP will explore legal options."
Aseefa Bhutto Zardari, daughter of Benazir Bhutto, said "We still await justice. Abettors punished but those truly guilty of my mother's murder roam free."
"There will be no justice till Pervez Musharraf answers for his crimes," she added.
Musharraf's government blamed the assassination on Taliban leader Baitullah Mehsud, who was killed in 2009 by a US drone attack.
"Two police officers have been convicted and sentenced. But the question as to who had ordered them to wash out the place of occurrence and destroy crucial evidence has not been addressed," said the PPP in a statement.
"The conviction of the police officers will remain weak unless those giving orders to them were also tried and convicted."