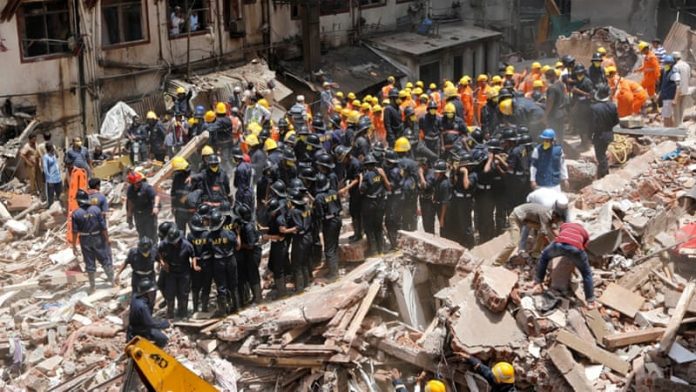 21 people have been killed and more than a dozen trapped after a four-storey building collapsed after monsoon downpours in Mumbai.
The residential building gave way in the area of Bhendi Bazaar, where roads were drenched following rainfall which is the heaviest seen in more than 15 years.
13 people were pulled out of the rubble by rescue workers, police and residents. Following the collapse, authorities advised the occupants of an adjacent building to evacuate after it developed cracks.
According to officials, the building collapsed half an hour before children were due to arrive to a nursery which is housed inside the building.
There is concern that the collapse could be one of many, with the water weakening the foundations of thousands of buildings over a 100 years old.
Across the south of Asia, it is feared that more than 1,200 people have died and 40 million affected by the flooding in India, Nepal and Bangladesh.
The storm has moved on to submerge the streets of Pakistan, where 14 people have died in the city of Karachi.
An eight-year-old boy was killed after a Federal Investigation Agency building collapsed. Many of the dead were electrocuted, forcing the city's energy provider, K-Electric, to cut power to certain areas.
Sadia Dada of K-Electric said, "Some feeders have been switched off in view of safety concerns in areas with waterlogging, and restoration work will be expedited in affected areas as soon as standing water is wiped out."
The United Nations described the situation in Nepal, where 150 have died, as the worst flooding in a decade and a third of Bangladesh is underwater, with 697,000 homes reportedly damaged or destroyed.
According to Save The Children, 18,000 schools across South Asia have been affected, leaving 1.8 million children unable to attend classes.
"We haven't seen flooding on this scale in years and it's putting the long-term education of an enormous number of children at great risk. From our experience, the importance of education is often undervalued in humanitarian crises and we simply cannot let this happen again. We cannot go backwards," said Rafay Hussain, Save the Children's general manager in the eastern Indian state of Bihar.
According to the UN, 40 million people have been affected by the unprecedented flooding.