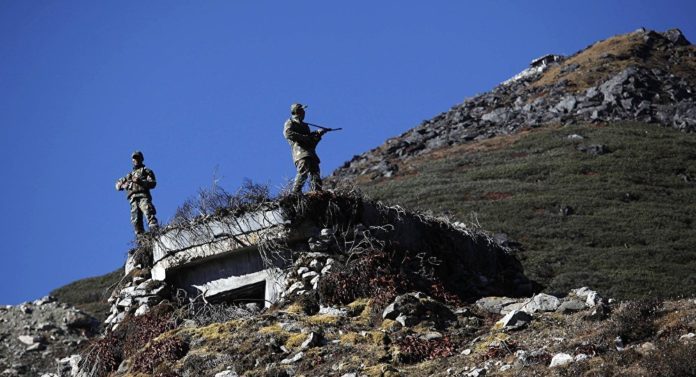 Ending a stand-off that has lasted weeks, China has said that India has withdrawn troops from a disputed Himalayan border.
The two-month long stand-off has sparked a war of words between the two Asian giants raising fears of a potential wider conflict.
The ministry of external affairs of India said on Monday that an "expeditious disengagement of border personnel at the face-off site at Doklam has been agreed to and is ongoing".
The foreign ministry in Beijing, China, said it was pleased that "trespassing Indian personnel have all pulled back to the Indian side of the boundary".
"The Indian side withdrew all persons and equipment that had crossed [the] border back to the Indian side," they said.
In mid-June, Indian troops began stationing themselves in the territory to prevent the Chinese building a road through the disputed area.
The news from the area, which is known as Doklam in India and Donglang in China, comes a week before India's Prime Minister Nerandra Modi's scheduled visit to China.
India supports Bhutan's claim of the area, which lies at a junction between China, the north-eastern Indian state of Sikkim and the Himalayan kingdom of Bhutan.
Shashank Joshi, a fellow at London's Royal United Services Institute, said, "The key question is, does the agreement stop Chinese road extension. If it is, that is enough of a win for the Indian government. It will be taken as India standing up to Beijing, and Beijing blinking first."
Such a commitment from China and People's Liberation Army to stop plans was unconfirmed.
"The area in contention is extremely close to a very vulnerable stretch of Indian territory that effectively connects the bulk of India to its northeastern states," said Joshi.
India argues that the road development posed security implications for the nation and represented an acceptable alteration of the status quo.
Delhi claims the plateau holds immense strategic importance and is vital to its geopolitical interests.
The Chinese disagreed, however, with Chinese Foreign Ministry spokesperson Lu Kang saying, "Doklam has been a part of China since ancient times. It does not belong to Bhutan, still less India.
"China's construction of road in Doklam is an act of sovereignty on its own territory. It is completely justified and lawful, and others have no right to interfere," added Kang.