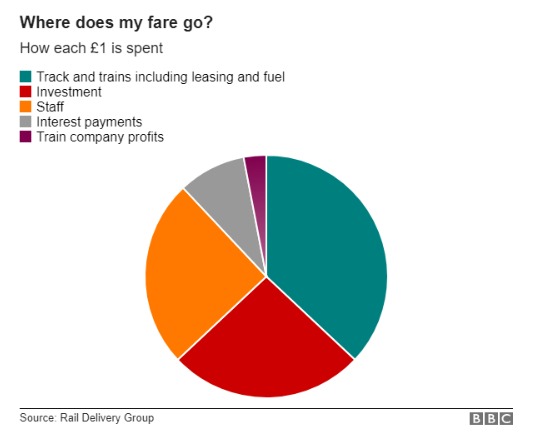 How is every £1 is used up?
Tickets which consist of super off-peak travel and advances fares are to be designated in December
Transport Focus, which represents the concerns of the travellers, said commuters were before now were unhappy with getting inadequate value for money.
"Wages are not keeping pace with inflation and performance remains patchy," said a representative for the group.
"Passengers, especially commuters, face potential strike action, the consequences of the continual rise in passenger numbers, and disruption caused by railway upgrades."
Transport Focus said it would also like to see the RPI measure substituted by the Consumer Prices Index (CPI), which is usually lesser than RPI.
'Fairly balanced'
The government said ticket surges were for needed in order to accomplish imporvements to the rail links.
"We are investing in the biggest rail modernisation programme for over a century to improve services for passengers – providing faster and better trains with more seats," a representative for the Department for Transport said.
"We have always fairly balanced the cost of this investment between the taxpayer and the passenger."
The Rail Delivery Group, which speaks for rail operatives, said there would be an additional 170,000 spaces for customers by the conclusion of 2019.
The Department for Transport moreover vetoed the notion of applying CPI to decide rate increases, saying RPI was used throughout the rail industry – for example in working out the price of managing rail services.
However, ONS' James Tucker reported that it wasn't in support of using RPI as a standard: "We know there will be a focus on the RPI this month, but the National Statistician has been clear it is not a good measure and we do not recommend its use."