To celebrate its 70th birthday as an independent state, Pakistan hoisted what it claimed to be the tallest flag in all South Asia at the Attari-Wagah border near Lahore.
Army chief General Qamar Javed Bajwa raised the flag at 12 midnight on Saturday which kicked off festivities across the country.
At 400ft high, the 120ft by 80ft flag is reportedly the 8th highest in the world.
Pakistan gained independence following a stretched and hard-fought campaign by Muhammad Ali Jinnah to give Muslims in India their own home.
At the time, India was under British colonial rule but following the Second World War, and a growing movement of Muslims supporting the motion for an independent state, the Indian Independence Act was passed in 1947 with two new Dominions; the Dominion of India and the Dominion of Pakistan, which later became the Islamic Republic of Pakistan.
Many hundreds of thousands of people were killed during the conflict between communities before the largest mass migration in history took place with Hindus moving to India and Muslims moving west to the newly formed Pakistan.
The country was formed as a democracy but over the last 70 years, few countries can claim to have been more unsteady than Pakistan. Military rule, corruption and political assassinations have marked the history books right up until the modern day; last week Prime Minister Nawaz Sharif was expelled from his position following a money laundering scandal.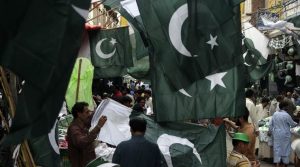 But today, the country remembers its past and its birth, and the streets have been lined with gatherings of people bringing with them music, dancing and fireworks.
General Bajwa said, "Some 77 years ago, Pakistan resolution was passed in the same city (Lahore). Pakistan came into being on the night of 27th Ramadan – it was a blessed night.
"We have rendered many sacrifices – we will never forget our martyrs. We will execute each and every terrorist in Pakistan. I want to tell our enemies, whether they are in the east or in the west, that your bullets will end but not the chests of our jawans (soldiers).