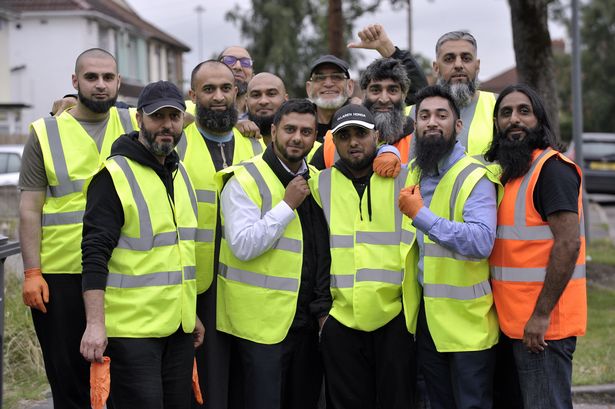 The newspaper the Morning Star named "disgusting" after unnecessary violence on guys who cleaned up Small Heath.
Good Samaritan civic stars who rented a truck and cleaned their personal roads of maggot-infested bin stacks have been named a 'scab army'.
The gang Bearded Broz which are a number of Muslim guy, gained extraordinary admiration last week when they took four truckloads of rubbish to Tyseley tip on behalf of irritated neighbours in Small Heath who had not seen a collection in weeks because of the bin strike.
However, in a piece which dates back to the 1970's "us and them" politics the communist newsprint the Morning Star has condemned the gang for violating the strike.
"A dispute over in Birmingham continues to escalate after a 'scab army' of volunteers has been clearing pile ups of rubbish," wrote journalist Steve Sweeney. "The community group, known as Bearded Broz, are encouraging people to join their scab operation as they undermine the strike by Birmingham City Council refuse workers over job losses."
Scab is a word of cruelty used throughout unpleasant long-running industrial arguments for example as the 1980s miners' strike. It stated to employees who showed up, or were taken in, for employment while their associates were on strike.
Matt Bennett, Conservative councillor for Edgbaston, was irate by the condemnation. "What a disgusting way to refer to residents who don't want to live in filth," he said on social media.
The Bearded Broz aren't salaried workers, just individuals who wanted the grime and dirt taken away from their area. In conversations they were moreover more unfavorable of the town council than the striking binmen.
Also, they have continued their actions Small Heath, they also have helped organize public clear-ups in further regions, comprising of Kings Norton and Kingstanding. Naveed Sadiq, of the Bearded Broz, rejected the Morning Star assault as a 'few keyboard warriors' kicking off'. "We're on the binmen's side," he said. "We've spoken to some of them. "Having done their jobs, we realize what hard work it is. They are worth every penny. The council needs to sort this out.
"But we will not stand by and do nothing with our streets in this state." The Midlands Communist Party of Britain wanted to defend the Morning Star, tweeting: "The criticism is not people cleaning streets, but a complete lack of understanding of the issues of the strike."
Moreover, the binmen are pushing up their industrial action today, and will currently space out walk-outs during the day. There will be one-hour strikes at 7am, 10.30am and 1.30pm. Council bosses believe this essentially means that very limited bins will be cleared because the industrial battle is supplemented by a work-to-rule, with bin men returning to their depot for tea and lunch breaks which will happen between the strike in the times at about 9am and 12.30pm.
Notwithstanding reported progress on the talks last week, discussions seem to have delayed, signifying more unhappiness for people.