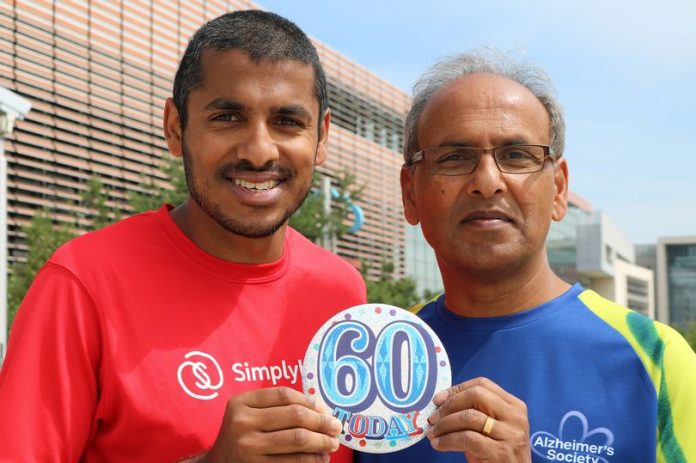 Running a half marathon tends to be on the bucket list of most people but few actually get around to it. It's better late than never and one Birmingham grandad will attest to that.
Jay Bansal plans to celebrate his 60th birthday by participating in the currently 7,500 strong Simplyhealth Great Birmingham Run. Alongside his son, Raj, who will be running in the Birmingham International Marathon on the same day, Jay is hoping to raise £2,000 for the Alzheimer's Society, a charity close to his heart following the death of his father-in-law, Kundan Singh Bahra, who suffered with Dementia.
"My father-in-law had dementia for several years and passed away last December," said Jay, who works as a contracts manager at architectural ironmongers Branch BMN.
"We decided as a family that we wanted to do something to raise money and awareness and try to help others."
October 15th, when the events take place, will mark a culmination of a year long effort of Jay's family.
"My son and daughter, who have been the driving force behind this initiative, suggested we do a series of events throughout the whole year.
"Little did I know their idea of events was to start running!
"So the whole family; my wife, my son, and my daughter and I ran the Great Birmingham 10k and we've since done various other 10k runs, half marathons, marathon and other running and cycling events.
"And for 'the big one', on my 60th birthday I'm going to be doing the Great Birmingham Run as a treat!.
"There's no chance of breakfast in bed for my birthday; those days are long gone!
Jay doesn't want to take all the glory though, saying that his children were his inspiration.
"I must say that my wife and I have been the 'support act' to the efforts and endeavours of our son and daughter who have been amazing!
"We set a fundraising target of £2,000 for the end of the year but would really like to hit £5,000 and we're optimistic we can do that.
"We think it is such a fantastic cause and that's why the family are doing what they're doing and I could not be prouder of them."
Jay's son Raj will be celebrating his own landmark 30th birthday in October and the Birmingham International Marathon will be the end product of a lot of hard work for the events manager.
"Up until June last year I'd only ever done a couple of half marathons and that was a long time ago. I've never enjoyed the training
"But last year my wife and I decided that we should try to get fit and lose a bit of weight. We knew we were getting lazy!
"So after seeing my mum, dad and sister taking part in Parkruns on Saturday mornings we went along with them and really enjoyed it.
"We went again, and again, and really, really enjoyed it! I got the bug.
"Soon after, I signed up for the Birmingham International Marathon and the running bug carried on from there."
Raj explained that as tiring as his preparation had been, the cause for which he was running continued to inspire him.
"Because we're raising money for charity and something that is really close to us, it kicks us on when we're not in the mood for training.
"However hard I'm finding doing a bit of running, there are people living with dementia who have it 1,000 times worse. Knowing this is what pushes me along."
The Birmingham International Marathon will start in Perry Barr at the Alexander Stadium and is sold out. However, Jay's Simplyhealth Great Birmingham half-marathon run, which starts on Jennens Road in the City Centre, is still open to entrants, and participants will gain access to an exclusive entry window for next year's Birmingham International Marathon. Both runs share the same finishing line, the Curzon Street Rail building near Millennium Point.