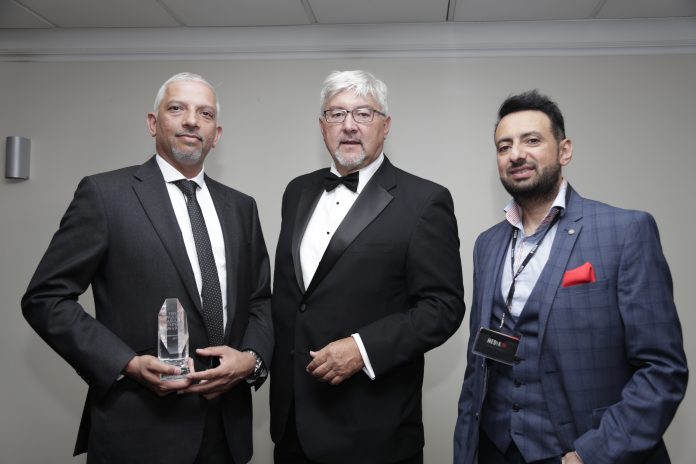 The Asian business community celebrated their success in a glamorous ceremony held in the Mercure Manchester Piccadilly Hotel on Monday evening.
Organised by Oceanic Consulting, the country's leading ethnic promotions and consulting company, the black tie event acknowledged and celebrated the accomplishments, determination and hard work of individuals and organisations from the Asian business community throughout England.
Yasmin Mahmood of event organisers, Oceanic Consulting commented "We are humbled and honoured to be amongst so much talent. Every year the list of nominees continues to show examples of innovation and business acumen that surpass the last, and this year was no exception. Congratulations to all of the winner and finalists."
Hosted by BBC Radio Leicester's, Kamlesh Purohit the 6th English Asian Business Awards saw individuals and organisations across England to be recognised for their achievements with categories ranging from Corporate Leader of the Year to Impact Business of the Year.
The winners of the 24 accolades are as follows: 
Micro Business of the Year 2017 went to VB Creative Photography (Preston)
New Business of the Year went to Chit Chaat Chai (London)
Rising Star of the Year went to Amrita Makkar (Principal Hotel Company, London)
Young Achiever of the Year went to Abz Navsarka (DessertVan.co.uk, Coventry)
Best Marketed Business went to Goa Beer UK (London)
The Community Award went to Women's CHAI Project (Oldham)
Convenience Retailer of the Year went to Nisa Local and Post Office (Fletton, Peterborough)
Best Food Establishment went to Rump 'N Ribs Steakhouse (Manchester)
Best in Accounting went to Harish Dass (Smith & Williamson, London)
Best in Law went to Hari Pabla (Pabla & Pabla, Manchester)
Best Professional in Business went to Dr Khalid Master (Bank View Smile Studios, Blackburn)
Retail Business of the Year went to Janan Stores (Bradford)
Wholesaler of the Year went to Khanjra Wholesale International Foods (Blackburn)
Online Business of the Year went to Sherwani King (Birmingham)
SME Business of the Year went to Nafees Bakers (Bradford)
Impact Business of the Year went to Tailoring By Manoj Makwana (Middlesex)
Corporate Leaders of the Year went to Sultan Choudhury OBE (Al Rayan Bank, Birmingham)
Family Run Business of the Year went to Woodbourne Group (Birmingham)
Businessman of the Year went to Navid Dean (Solar Street Lighting, Manchester)
Businesswoman of the Year went to Manjeet Rai (Capital Care Group, Shrewsbury)
Entrepreneur of the Year went to Adeem Younis (Penny Appeal, Wakefield)
International Business of the Year went to Axis Bank (London)
Business of the Year went to Three Sisters Care (London)
Power Business of the Year went to Regal Foods (Bradford)