A new Aqua park is opening in Bromsgrove which will feature a whole host of fun and exciting water based games and challenges.
The Aquaglide Aqua Park promises a floating obstacle course, slides, blast tag and more. The park is being included as an addition to Atzec Adventure in Upton Warren which is just unction 5 of the M5 motorway.
Those 5 and up, including adults, are welcome to come and took on the game show like challenges. The park will be open from July 6th to October 1st and is situated upon a magnificent 20 acre lake.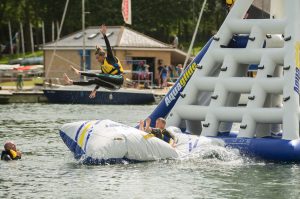 The watersports extravaganza affair will also feature a café, The Boat Shack Café, overlooking the lake for parents to sit and enjoy or for those simply looking to relax and watch the fun unfold. There are multiple picnic and barbeque areas on the grounds which are perfect for family and friends too.
For those seeking yet more thrills, there is also a high level ropes course, climbing walls and a tunnel complex. In addition there is kayaking, canoeing, windsurfing and sailing. The park is expected to compete with the Cotswold Country Park, located in Shorncote.