A chaplain to the Queen has resigned following a church allowing a Quran reading to take place during its service.
The Rev Gavin Ashenden, who worked as one of the Queen's thirty three special chaplains, criticised the Church, despite the reading being part of an interfaith project. St Mary's Episcopal, in Glasgow, held a service to mark the feast of the Epiphany, during which a passage of the Quran was read which mentioned that Jesus was not the son of God.
The purpose of the interfaith service was to improve relations between local Christians and Muslims in Glasgow, with Muslim worshippers were invited to the service. The police reported that after the service, some of the church members received "hate-filled messages" from far-right extremists.
Speaking to BBC Radio 4's Sunday programme, Dr. Ashenden said:
"There are things we should not tolerate because they are destructive. I don't accept the rather feeble accusation that intolerance is a bad thing.
"The problem with what happened in Glasgow was that although it was presented as a way of building bridges and a way of educating people it was done badly in the wrong way in the wrong place in the wrong context.
"It should not happen in the holy Eucharist and particularly a Eucharist whose main intention is to celebrate Christ the word made flesh come into the world.
"To have a reading from the Koran at that point was a fairly serious error for the Christian worshipping community, but to choose the reading they chose doubled the error. Of all passages you might have read likely to cause offence, that was one of the most problematic."
In a letter written to The Times, he asked the church to apologise to Christians for "suffering dreadful persecution at the hands of Muslims." He also added that denouncing Jesus in the Church could be constituted as "blasphemy."
The Dr then tweeted a message he had received which read: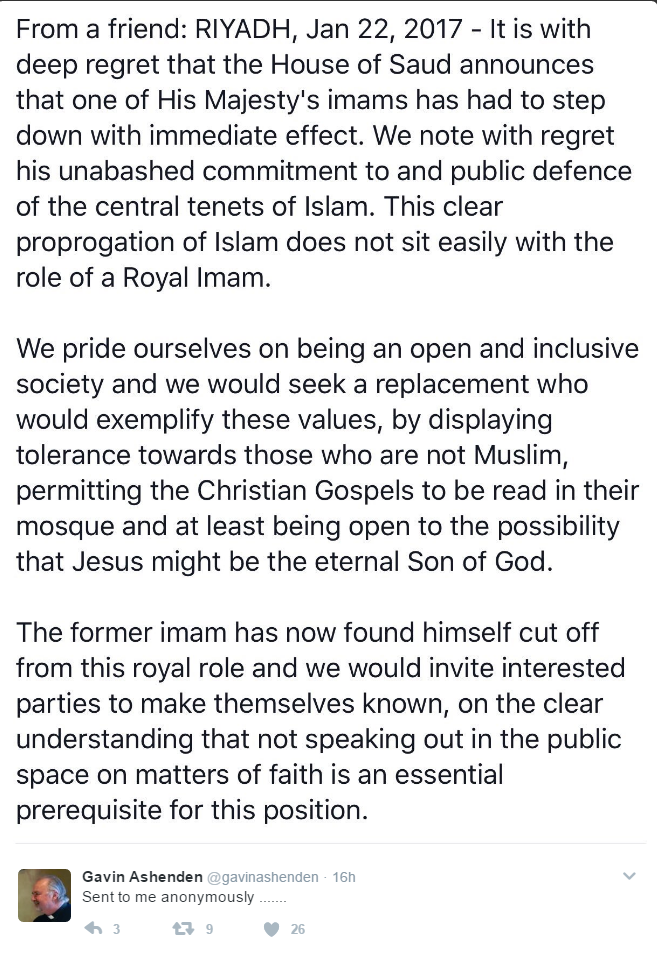 The ex-reverend has received a mixture of feedback, with some praising his commitment to Christianity and the right to defend his faith, and others accusing him of intolerance and perhaps, a lack of understanding of interfaith aims.
In one of his many written pieces since the 'Glasgow gaffe,' Dr. Ashenden urges that we make a choice:
"In this case the choice is between Jesus and Mohammed. Mohammed is famous for his violence, in particular for his beheading of 500 Qurayza Jews. Jesus is famous for healing the sick, raising the dead and forgiving their enemies. Muslims are told that if they want to be good Muslims they must imitate Mohammed. (Welcome to Middle Eastern politics). Christians are told that if they want to be good Christians and they must imitate Jesus, as far as then can.
The influence and the teaching of these two different men produces different behaviours, different cultures and different worlds. It's more than a gaffe to obscure the difference."