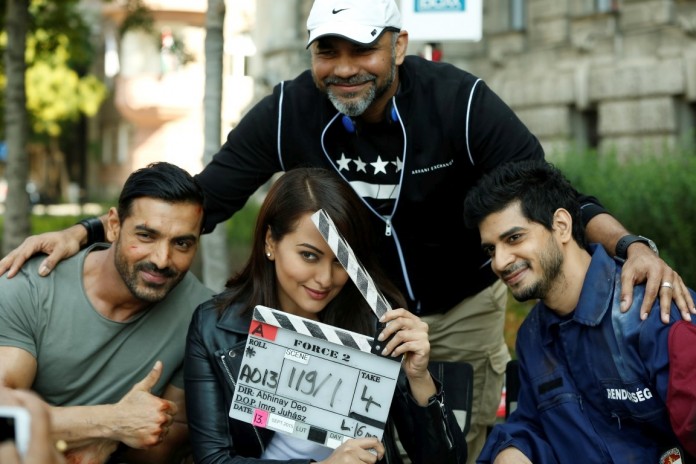 Director Abhinay Deo knew when he first met Bollywood action star John Abraham that he'd made a smart choice in agreeing to helm the sequel to the 2011 hit Force even before there was a script.
Right from the outset, Deo had a strong vision for Force 2, which Viacom 18 Motion Pictures is launching on Friday on more than 2,000 screens in India and 200-plus in the rest of the world. "I wanted the scope to be bigger and to expand the idea of force so it is not only about cops," says Deo, whose credits include 24: India, the Hindi remake of the TV series which aired on Viacom's Colors network, and the 2011 crime comedy Delhi Belly.
The original Force is a remake of Gautham Menon's 2003 Tamil hit Kaakha Kaakha so Deo and the writers, Jasmeet K. Reen and Parveez Sheikh, approached the sequel as a fresh, standalone story. The producer, Vipul Amrutlal Shah, had offered the job to Deo, a former commercials director, before there was a script. His pitch: Turn Force into a franchisable property.
Set in China, India and Budapest, the film opens when three undercover agents with India's foreign intelligence agency RAW are killed in synchronized assassinations across Asia, posing a threat to the nation's security.
Abraham plays agent Yashwardhan, a former cop whose wife and friends were killed in the original film. Working with female officer KK (Sonakshi Sinha), who heads the agency's operations in the Middle East and Eastern Europe, he discovers the mastermind is a mole who works as a software engineer in the Indian Embassy in Budapest. Tahir Raj Bhasin plays the villain Shiv, whose ultimate mission is to assassinate India's Prime Minister.
Deo and Abraham, who is also one of the film's producers, hit it off at their first meeting 16 months ago in Abraham's office. "We discussed a few ideas before I had cracked the main idea for the film," the director says. "I always wanted to work with John. He is one of the biggest action stars in the country. He is the perfect fit.  He was familiar with the kind of work I was doing and he was very excited."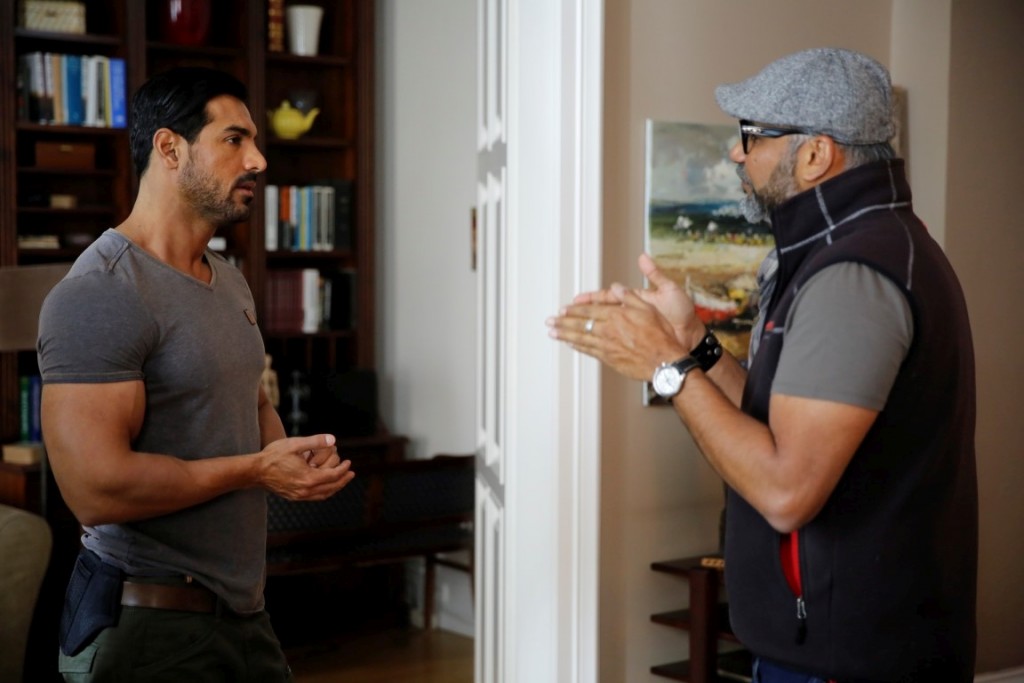 Working with actors, Deo always tries to understand their pluses and minuses and to set aside the latter and focus on the former. He found that process to be very easy with Abraham, given his experience of more than 40 screen credits since 2003, observing, " He's a very realistic actor. He does not over-act. He is very understated with his voice and the way he uses his voice."
Sonakshi was an obvious choice to play KK, the type of character she had not played before. KK lives alone in New Delhi, doesn't get along with her father (a retired colonel), and is diligent in her approach to her job. Moreover, the actress had undergone mixed martial arts training for director A.R. Murugadoss' action-drama Akira, which opened in India in September, so she had the requisite physical prowess. In a fresh twist, Yash and KK don't have any romantic involvement: to the contrary, neither actually likes the other initially.
The 65-day shoot spanned India, Budapest and Thailand, substituting for China. The producers applied for a permit to shoot in China and sent the authorities the script four months before production was due to start, but after a lengthy wait were turned down.
Vipul Amrutlal Shah told local media, "We had to cheat-shoot China in Bangkok. An email from the authorities forced us to switch our plans. They didn't let us in because of our script. We even approached three line producers, who after reading the script, told us that they it would not be possible to get the permission to shoot in China."
Early next year Deo aims to start shooting a dark comedy starring Irrfan Khan and, he hopes, Aditi Rao Hydari, which has the working title Blackmail; he is keeping the plot under wraps. After that he is keen to tackle a third edition of Force if moviegoers respond as strongly as he hopes to the sequel. "I'm very proud and happy with the way the film has shaped up," he says. "It is a very honest film, much more Jason Bourne than James Bond."