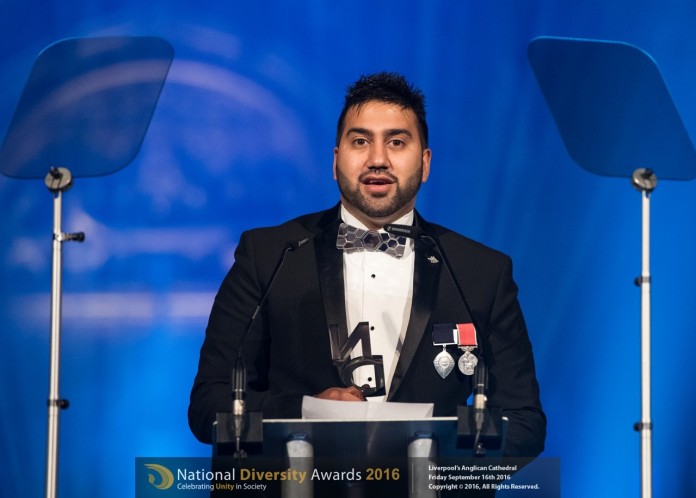 ROLE MODELS and charities were honoured nationwide at Friday's ceremony at the breath taking Liverpool Anglican Cathedral, rewarding Britain's most inspirational people for their fight against inequality.
Community heroes from across the UK gathered in the bustling city of Liverpool to celebrate the outstanding achievements of those who have demonstrated exceptional devotion to diversity, equality and inclusion.
Sajid Rashid BEM beat seven others in the running for the Positive Role Model of the Year for Age. With over 20,000 nominations received and being shortlisted to the final eight was an achievement within itself, going on to being crowned the 'Winner' on the night.
At the age of only 26, Sajid Rashid is one of the youngest person ever to have been awarded a British Empire Medal (BEM) from Her Majesty The Queen on the New Year's Honours List 2016 for his tireless service to the community, as well as a profound impact on the community and fundraising.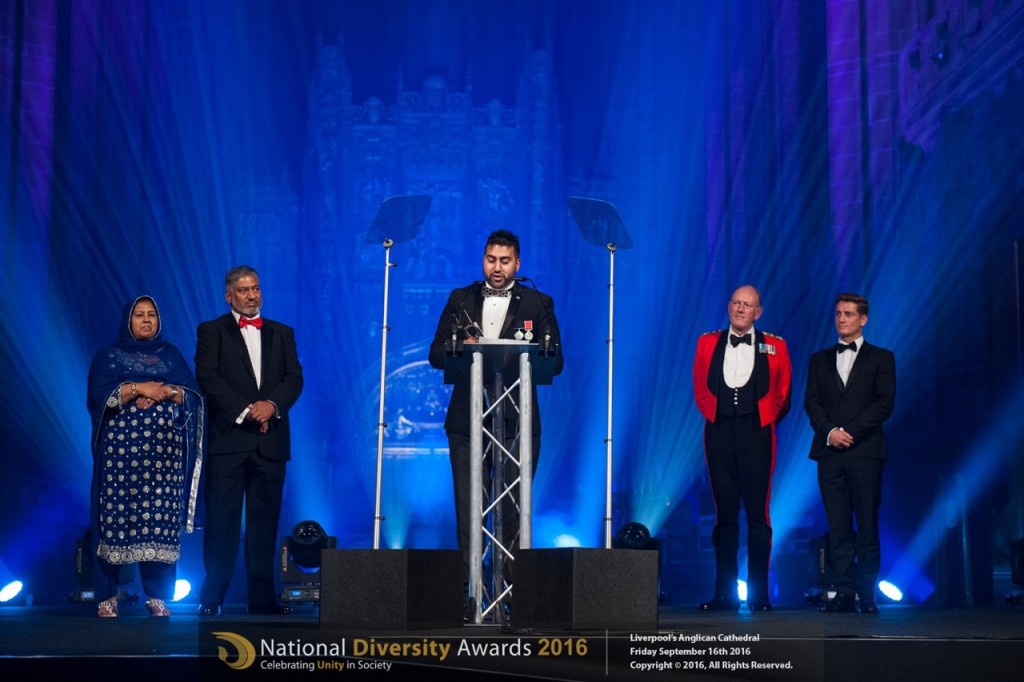 Sajid started volunteering at Staffordshire Youth Service and quickly progressed to become a Millennium volunteer after helping young people around East Staffordshire set up youth centres in his spare time. He then moved his focus to Uxbridge Community Centre where he became chairman, and then vice-chairman, allowing him to improve the venue and the community.
Working for Rolls-Royce as well as a qualified pilot, it has enabled Sajid to impact both his local and international community, and has allowed him to explore STEM fields in order to inspire young minds. Sajid has raised over £20,000 for natural disasters around the world.
Later on throughout the year in July, Sajid was honoured with another British Citizens Award medal (BCA) from the Westminster Palace, London for improving British Society as well as services to the community.
Sajid, who is also a qualified pilot, graced the stage with his presence on the night to deliver an exceptional acceptance speech where he dedicated the award to his parents. A heartfelt moment where he expressed his feelings;
"My mum and dad are probably thinking why have I brought them up to stage with me, well the reason for this is that I dont always get a chance to express how I feel about them, the reason for this award is them! My mother and father, my pride, my joy!
"I wouldn't be standing here if it wasn't for them, the goals that I have achieved and conquered in life, the success and the blessings, Is all because of them, so I would like to personally dedicate this award to my parents for everything they have done for me throughout life."
He then went on to say:
"I would like to also congratulate all the winners as well as the nominees. Win or lose in my eyes you are all winners. Its people such as yourselves that put the 'great' back into Great Britain. That unites society instead of dividing. Community cohesion and diversity is what makes our Britain great against the rest of the world. This is what makes me proud of our nation. "
A record 20,000 nominations and votes were received this year, paying tribute to grass root communities nationwide. Microsoft were just one of the brands supporting a skyfall of diversity talent – positive role models, community organisations and entrepreneurs from the LGBT, ethnic minority, age, gender, religion and disability communities.
Other sponsors included adidas Group, the Army, Financial Ombudsman Service, Kier Group, PwC, MI5, GCHQ, MI6, ThoughtWorks, Direct Line Group, Transport for London, ITV, The Open University, The Voice Newspaper & Able Magazine.
The energy in the room was an intrinsically positive one, with each nominee being extremely supportive of each other. The evening was kicked off by founder of the NDA's Paul Sesay, discussing the importance of the National Diversity Awards and what inspired him to create the ceremony.
As passionately as ever, Sesay said, "The grassroots organisations that The National Diversity Awards recognise are pioneering amazing initiatives on equality diversity and inclusion; and we need to promote, empower, profile and acknowledge their extraordinary achievements." The ceremony, without a doubt, delivered on that promise.
David Isaac CBE followed, sharing with the audience what he hopes to achieve as Chair of the Equality and Human Rights Commission. His speech was met with a rapturous applause from the inspired audience.
The diverse line up of award presenters included actor and director Femi Oyeniran, ITV weatherman Alex Beresford, Actor & Comedian Sally Phillips, Union J Favourite Jaymi Henley, Hollyoaks star Annie Wallace, Liverpool's very own acting sensation Philip Olivier, former England football international Sol Campbell, and the UK's leading disabled fashion model Kelly Knox.
Designed to highlight the country's most inspirational and selfless people, the NDA's are supported by the likes of Stephen Fry, Sir Lenny Henry and Katie Piper amongst many.
Returning from the Rio Paralympics with two Gold Medals in tow, British Cyclist Jody Cundy said "I am proud to be supporting The National Diversity Awards – a fantastic celebration of the achievements that would often go unnoticed, but ultimately have enhanced today's culturally diverse society, bringing together and creating role models from all walks of life!".
The Liverpool Signing Choir, who performed at both the Olympic and Paralympic games in 2012, performed stellar renditions of John Lennon's imagine, and Heather Smalls' Proud.
MiC LOWRY, described by BBC1CTRA as the 'next big thing to come out of the UK' also showcased their music to the nationwide audience. The 5 piece band will be touring with Justin Bieber from September 29th and released their brand new single on the same day as they awards.
The National Diversity Awards was a real feel good ceremony, where each nominee had earned their right to be in attendance for their fantastic work in their specific community.
The Golden Globes of the diversity world was a wholeheartedness event refreshingly celebrated in such swanky style, that it was evident who were the stars of this show, the well-deserving, humble and extraordinary nominees.