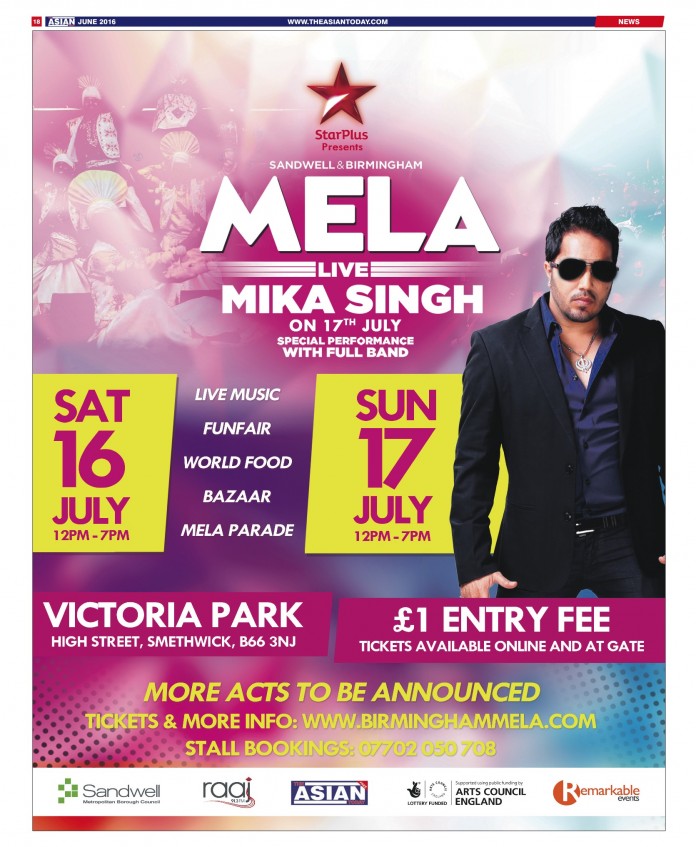 Thousands of visitors will head to Victoria Park, Smethwick on 16-17 July for the Sandwell & Birmingham Mela 2016.
The festival, presented by Star Plus in association with Lyca Mobile, is a weekend extravaganza in the heart of the community that combines live international music performances, stalls, food, arts, community showcases, workshops and a funfair.
Over 100 artists and groups are set to perform at the event including Bollywood's biggest playback singer Mika Singh, chart-topping artists Sukshinder Shinda, Zack Knight, Resham Anmol, Hardy Sandhu, Zora Randhawa and many more!
After performing in sold out, live shows across India and internationally in Dubai, USA, Canada and Africa, Mika Singh is all set to perform in the UK with his live band for the first time at an outdoor event.
With millions of followers on social media, Singh has earned a reputation of performing to packed houses around the globe, and his Mela performance is set to be one of the most anticipated musical events of the year.
He boasts a string of chart topping hits, has been in the industry for more than a decade and has entertained Bollywood pop music lovers with catchy numbers over the years.
This tremendously popular artist has received a host of Bollywood accolades, including IIFA 2008 and 2012 and many more.
80,000 people attended the two-day festival in 2015 and, now in its sixth year, the event is set to attract people from across the region and further afield.
Danny Singh, Director of Sandwell & Birmingham Mela, said: "The Mela is months of hard work and dedication by the team.
"This year we have put in the extra effort and are bringing something really special. Staging Mika Singh will make the Mela even bigger and attract a much diverse audience. Mika is India's biggest Bollywood singer and he will rock the UK audience!"
Gurjeev Singh Kapoor, President Star International Business said "Star Plus is very pleased to be the presenting sponsor of the Sandwell & Birmingham Mela 2016.
"Being the UK's No. 1 Asian TV channel, it is only fitting for Star Plus to be part of the Mela in bringing entertainment in new and innovative formats to our loyal UK audiences."
Councillor Richard Marshall, Sandwell Council's cabinet member for leisure, said: "The Sandwell & Birmingham Mela is a hugely popular event in the heart of Smethwick – there's always a great community atmosphere.
"It's an opportunity for people from Sandwell, Birmingham and right across the country to enjoy a wide range of entertainment and the rich cultural diversity Smethwick has to offer in one of our Green Flag parks."
Road closures and parking restrictions will be in place on the following roads on event days between 11.30 and 19.00:- Corbett Street, Suffrage Street, Scribbans Close, Pritchard Close, Ballot Street, Exeter Road, Jordan Close, Barnstaple Road, Tiverton Road, Dawlish Road, Victoria Park Road, Ron Davis Close, Pool Road, Salcombe Road, Amity Close, Pool Road, Allan Close.