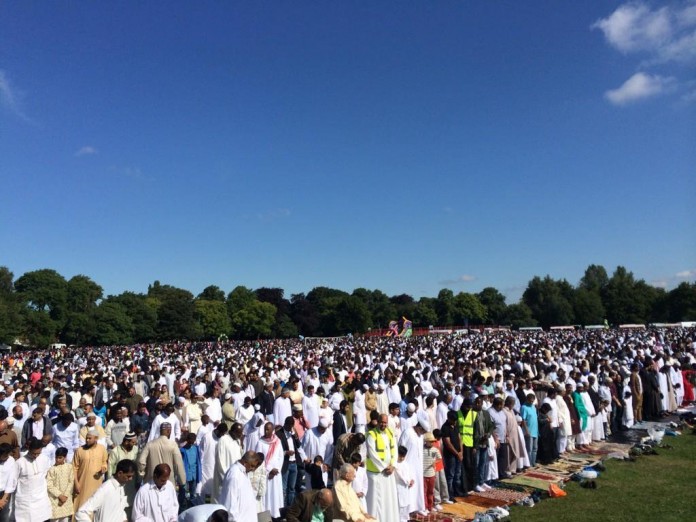 Europe's largest Eid celebration will be returning to Birmingham's Small Heath Park on either Wednesday 6 July with an estimated 75,000 people expected to take part in the day's festivities – the biggest of its kind in Europe.
The event is sponsored by the UK-based, humanitarian aid charity, Human Appeal – one of the fastest growing charities in the UK who will also be celebrating record-breaking fundraising success over Ramadan.
Now in its sixth-year, the festival has seen growing numbers since its inception in 2011 with over 60,000 attendees taking part in 2015.
Organised by Green Lane Masjid & Community Centre, Celebrate Eid will begin with morning prayers and sermons from 9am until 10am.
Following prayers, festival-goers will be able to take part in family activities including laser clay pigeon shooting, miniature golf, rodeo bull riding, fairground rides, food stalls and much more.
This event sees Human Appeal and Green Lane Masjid & Community Centre working together in their successful partnership. After raising £900,000 for Human Appeal in 2015, Green Lane Masjid & Community Centre are aiming to raise £2million this year and are already close raising £1million.
With an emphasis on community and family, Eid al-Fitr is an important religious holiday which concludes the Islamic holy month of fasting, Ramadan.
The date of Eid varies locally, as it is based on the observation of the new moon by local religious authorities. This year, Celebrate Eid will fall on Wednesday 6 July.
The centre is working in partnership with five Birmingham mosques to bring the community together for prayers, games, and fun.
Othman Moqbel, CEO of Human Appeal, said "Human Appeal is excited and honoured to be part of this fabulous Eid Festival. This Ramadan has been our most successful for fundraising yet, so it's a bonus to be able to share this celebration with so many people."
Celebrate Eid organisers, Green Lane Masjid & Community Centre, said: "Eid is one of the most important holidays in the Islamic calendar. We work closely with the local community to create the largest celebration of Eid in Europe.
"Families from all over the United Kingdom and the world, travel to Small Heath in Birmingham to pray, laugh, eat, and celebrate all of life's blessings. The festival is open to the entire community and we welcome people of all faiths to join in the celebration.
"With each passing year, our numbers grow and grow and we know that this year's festival will be the best one yet."
Celebrate Eid will be hosting a new Muslim lunch as part of the day's activities. This lunch is open to new Muslims and their non-Muslim families to welcome them to the community and educate them about Islamic traditions.
Andy Beard, Superintendent at West Midlands Police, said: "Every year, we look forward to attending and joining in with the Eid celebrations. West Midlands Police has been working closely with Green Lane Masjid since 2011 to make sure that Celebrate Eid continues to be a fun-filled community event that is open to all and goes as smoothly as possible.
"This year Small Heath Park will be welcoming a record number of visitors and we're incredibly proud that this huge celebration takes part in our great city.