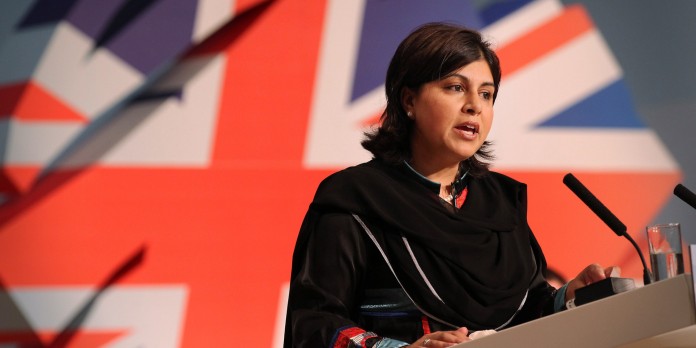 45-year-old Baroness Warsi has declared that the "hate and xenophobia" of the Leave campaign has taken a step too far.
She has stated that she cannot support Leave after seeing UKIP's "breaking point" anti-EU poster.
However, Vote Leave were not even aware that Lady Warsi was a supporter of their campaign.
Nigel Farage defended the poster, declaring it as "the truth".
Many politicians from both Leave and Remain campaigns, accused UKIP leader, Mr Farage, who is not part of the official Leave campaign, of attempting to scare voters before the vote on 23rd June after he uncovered a poster showing a long queue of migrants.
Leading Leave campaigner, Michael Gove said he "shuddered" when he caught sight of the photo, which was taken in Slovenia.
Lady Warsi, who resigned from the government in 2014 over its position on Gaza, said: "That 'breaking point' poster really was – for me – the breaking point to say, 'I can't go on supporting this'.
"I was making the case to leave long before Vote Leave had been established.
"Unfortunately what we are seeing as a vision for Britain are lies and xenophobic campaigning. Why is it people like me, who are instinctively Eurosceptic, are feeling they need to leave Leave?
"Because day after day, what are we hearing? The refugees are coming, the rapists are coming, the Turks are coming."
She added: "It's not an easy decision – this has been a difficult personal journey.
"When I look at the people who are now saying the things they are saying and the people who are supporting that approach, the BNP, Donald Trump, Marine le Pen, Austria's Freedom Party – every day it feels like the far right is coming out to stand by Leave."
However, Leave campaigners have said that they had no knowledge of Lady Warsi being a part of their campaign.
Vote Leave tweeted: "Genuinely puzzled by Sayeeda 'defection'. We weren't aware she was ever part of the #VoteLeave campaign…"
Conservative MEP Daniel Hannan tweeted: "When I invited Sayeeda Warsi to join the Leave campaign, she declined. Fair enough, obviously. But how is this a "defection"?
Nadhim Zahawi, a Conservative MP who is campaigning to Leave tweeted: "Been part of the leave campaign from start. I had no idea that @SayeedaWarsi was part of the leave campaign. News to all of us me thinks."
Mr Farage defended the 'breaking point' poster by stating that it was a response of German Chancellor Angela Merkel's decision to open the doors of her country to Syrian refugees, which he labelled as "one of the biggest political failures of modern times."
He said: "The point of that poster was to say that Europe isn't working. Something that's true can't be a scare."