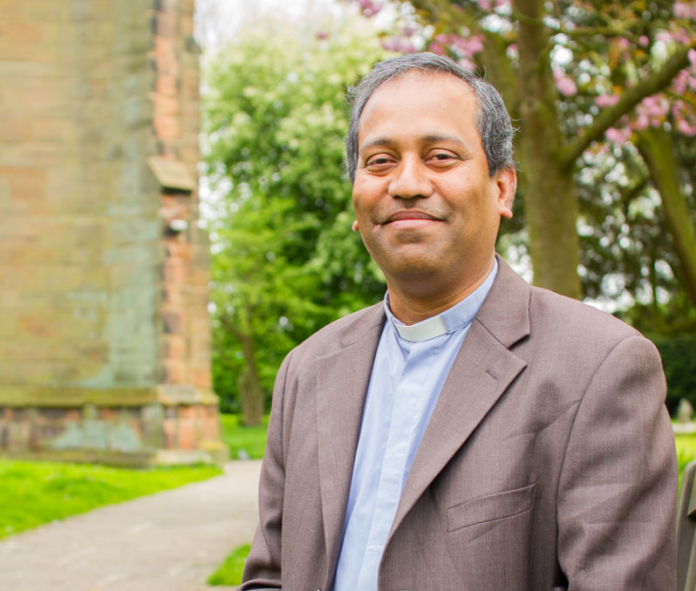 The winners received their NRI (Non-Resident Indian) Awards at a glittering ceremony in Mumbai in April, where Revd Joshva Raja was announced as a winner in the Professional category due to his contributions to HIV/AIDS awareness, community media and interfaith relations.
Revd Raja is the vicar of St Nicholas in Curdworth, near Sutton Coldfield, but began life in Pannaivilai, a small village in south India. While teaching at the United Theological College, Bangalore, he first encountered the ignorance and fear surrounding HIV-positive communities when a local priest asked his advice on whether to remove a couple from his church who had contracted the virus, in the fear that they may infect others when sharing communion.
In consultation with medical professionals, Joshva took to the streets with students from the Theological College. They drew crowds using drama, puppet shows and music and then used these media to educate local people about the virus and its victims. He was called to sit on various governmental committees tackling the HIV problem and, with UNAIDS (United Nations Programme on HIV & AIDS), ran an international consultation on how faith groups can better serve communities affected by the virus. "Fundamentally, I wanted to change the negative attitude towards HIV sufferers into a positive one," he explains. "We have a mandate to care for them, not blame and exclude them."
Revd Raja was also concerned about the wider media misrepresentation of religious minorities, women and young people with disabilities. Bringing media and faith groups together to discuss these issues on local and national levels, he developed a media literacy programme for schools to enable students to think more critically about media information. Furthermore, he petitioned the government to grant licenses for community radio stations, in order that alternative voices to the mass media could be heard. Following a UNESCO-funded conference investigating the matter, 250 licenses were granted to community stations, with a further 500 now also in operation.
For Joshva, community broadcasting isn't just an issue of media diversity, but has been a matter of life and death. He believes that at least half of the 12,000 Indian lives that were lost in 2004's devastating tsunami could have been saved had communication channels been more effective. The instruction to evacuate was delivered over an hour after the tsunami had already hit the south east coast of India. In the wake of this appalling disaster, Revd Raja began looking into Disaster Information and Communication Management programmes, working with the UN to deliver training and infrastructure to NGOs in coastal areas of India and Bangladesh.
Revd Raja's work in interfaith relations began as a counterbalance to the misrepresentation of religious groups in Indian mass media. He organised dialogues between Hindu, Muslim and Christian groups to encourage mutual understanding, away from negative media stereotyping. These grassroots discussions took on national significance, with the Reverend promoting dialogue between faith leaders to encourage respect, understanding and concern for those of different beliefs.
Interfaith relationships are of continued interest to the vicar. He is part of a regional initiative that encourages the Church to engage positively with communities of other faiths. "We can still be faithful and relate to others," he explains. "Jesus always listened to his opponents, and appreciated the faith in others. Listening and receiving are just as much a part of our ministry as telling. This is how dialogue works."
The Rt Revd David Urquhart, Bishop of Birmingham, has offered his congratulations to Revd Raja: "We are blessed at The Church of England Birmingham with a diverse range of vicars who bring a wealth of experiences and backgrounds to their parishes across this region. I know that Joshva doesn't expect awards for his work, but I am delighted that his practical, demonstrable care for marginalised communities across the world has been celebrated in this way."