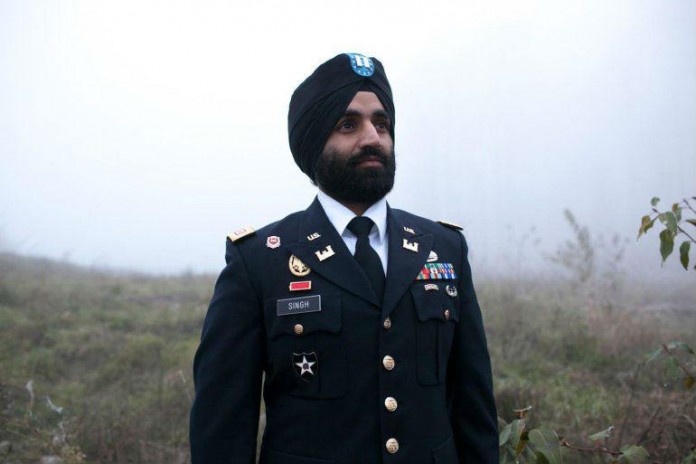 Captain Simratpal Singh has dreamt of being a soldier ever since he was a child.
Now, at 28-years-old, he is the first active duty Sikh American soldier in 35 years that has been given the right to serve while wearing his religious turban and beard when he is on active duty.
He says: "Ever since I was a kid I had a fascination of being a soldier."
His dream of becoming a soldier was equally as significant as his desire to remain true to his faith. Whilst he served the country, the country still had yet to listen to his pleas.
Sikhs are obligated to wear a beard and a turban amongst other articles of faith which are part of the Sikh tradition.
However on his first day as a cadet at West Point military academy, he was required to shave his beard and remove his turban. He had never done this before.
Singh has been reported to have said: "I remember one of the hardest things to do was to look in the mirror the next day and kind of have that self-image of yourself shattered completely of what a good Sikh is supposed to be. It was a hard adjustment."
Last year after a decade of service Mr. Singh launched a legal challenge against the rule that prohibited him from wearing a turban or growing a beard on duty.
He succeeded in his appeal and has attained the right to keep his beard and wear a black or camouflaged turban while on duty.
He is the first American soldier in 35 years that has gained this right.
Since his success, three other Sikh soldiers have received the same religious accommodations.
Mr Singh has said, he saw his great grandfather and many others who fought with the British in the two World Wars as a huge inspiration.
"Some day when Sikh American parents tell their kids that they can be whatever they want to be in this great country of ours, I hope that it rings a little bit more true," He said.
"And it means that they can serve in the Armed forces just as freely."