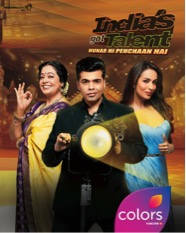 Talent doesn't discriminate; it knows no biases, it has no preferences. It only celebrates meritocracy.
Unearthing the finest and the most astounding talent from the length and breadth of the country is the Nation's premier talent show, India's Got Talent. With only 'hunar' taking precedence above all, the latest edition of the show brings to you the finest and the rarest of jewels of the country who will wow the viewers with their exceptional abilities. The judging panel – Karan Johar, Kirron Kher and Malaika Arora Khan return yet again to turn dreams into reality for the contestants. Produced by Fremantle India Television Productions Pvt Ltd. and hosted by Bharti Singh and Sidharth Shukla, India's Got Talent brings unbridled energy on the stage and enriches weekend family viewing experience every Saturday and Sunday at 9:00 PM on COLORS.
India's Got Talent is known for recognizing the best of the most mundane to the most extraordinary acts. This year's highlights include performances like sand art, beat-boxing, mind-reading, underwater and water-sport acts, aerial yoga, horse acrobatics, and for the first-time-ever ice-skating and sky-diving acts. This edition will also see the team travel to every nook and cranny of the country to bring to the fore unheard of talents looking for a stage to perform. Further, special episodes will celebrate rustic and traditional art forms which have lost their individuality over the years.
Commenting on an all-new season of India's Got Talent, Manisha Sharma, Programming Head – COLORS said, "The beauty of India's Got Talent is that it just lets you be. It doesn't try to restyle you. Hence the focus is purely on what you bring to table in terms of your talent. It's the only credible platform that the country has which gives opportunities to the uniqueness in an individual. As we venture into the by-lanes of India in search of the best, with a promise of larger than life performances, we promise to create an unparalleled viewing experience for our discerning audience."
Known for his quirky sense of humor and eye for detail, judge Karan Johar said, "India's Got Talent is the one show that consistently changes the fortunes of its participants. This year, we're going beyond convention to celebrate the choicest talent which has the ability to stand out and claim its spotlight. We are all set for a talent-filled ride as we delve deeper into the country and take India's Got Talent to a performer's backyard."
Speaking about her longstanding association with the show, Kirron Kher said, "Every time I come on the sets of India's Got Talent, it feels like this is where I truly belong. This year, there are some performances that we've never seen before including sky-diving and ice-skating. I'm looking forward to another wonderful season, my seventh, with some excellent and path-breaking performances."
Adding further, Malaika Arora Khan added, "India's Got Talent is all about unrestrained entertainment. Every year the varied talent has raised the bar of entertainment, and this year is no different. The caliber of talent is astounding and an absolute treat for the senses. I can't wait for the show to kick off and the viewers to experience the brilliance that our country has to offer."
Commenting on the show, Aradhana Bhola –  Content Head, Fremantle India Television Productions Pvt Ltd., "In its seventh season, India's Got Talent's search for superlative talent has taken us to the smallest towns and villages including  Loharika in Punjab  and Nunerbhari in Bengal. With double the dose of entertainment, drama and never-seen-before spectacles, the show will be a treat to the audiences' senses. We hope that the show's larger-than-life backdrop and nation-wide search for superior talent will enthrall viewers and keep them glued to their television sets."
Get ready to witness a larger than life celebration of talent and entertainment on India's Got Talent, every weekend at 9PM, only on COLORS