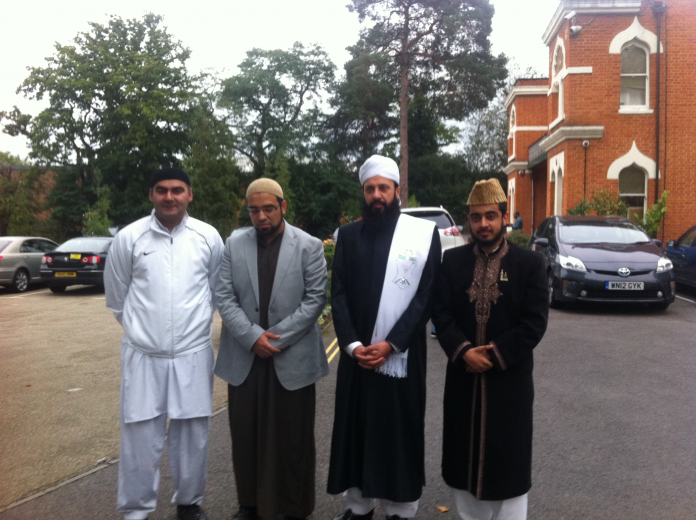 Recently the famous poetry reciter Hafiz Rafaqut Hussain whose glorious voice is heard by Millions of viewers on a daily basis with his recitation of the Durood Taj, celebrated the Mawlid event at his house inviting people from all communities to spread love and unite the nation.
On the twelfth day of the third month, Rabi' al-Awwal, many Muslims commemorate the birthday of the Prophet Muhammad. In many predominantly Muslim countries, Mawlid al-Nabi is a major public holiday. Muslims view this festival as a means to teach their communities about the Prophet Muhammad's way of life, which all Muslims seek to emulate.
Throughout the world, there are a variety of expressions for the observance of the birth of the Prophet: some celebrations take place simply in private homes; other Muslims decorate their localmasjid with lights and hold large festive gatherings. Celebrations of Mawlid al-Nabi include sharing food, attending lectures, participating in marches, and reading the Qur'an and devotional poetry. In some countries, such as Pakistan, the entire month of Rabi' al-Awwal is observed as the Prophet's "birth month." In Singapore, the observance of Mawlid al-Nabi is a one-day festival which often includes special "birthday parties" for poor children and orphans in addition to the regular prayers and lectures in local masajid. Azhar Square in Cairo is the site of one of the largest celebrations, with over two million Muslims in attendance.
In 1994, the First International Mawlid al-Nabi Conference was held in Chicago, Illinois, organized by the Peoria-based Naqshbandiya Foundation for Islamic Education (NFIE). At the conference,shaykhs and scholars from around the world argued for both the religious precedence and cultural importance of the celebration of the birth of the Prophet. More than 1,200 people from across North America and from overseas attended this spiritual conference, the theme of which was "Love of God and His Prophet." A second conference, "Spiritual Aspects of Islam," was held in 1995. Lectures were presented by eminent scholars and Sufi leaders from around the world; devotional poetry in praise of the Prophet Muhammad was delivered in Arabic, Farsi, Urdu, Kurdish, Bosnian, and English. Planning for the third annual conference in Chicago included efforts to coordinate with other Muslim organizations to hold similar gatherings in major North American cities during the month of Rabi' al-Awwal. In 2011, the conference was held in Edison, N.J., with corresponding festivals held in London and Pakistan.
The various ethnic groups in the American Muslim community bring their distinct customs to this festival observance. Some Islamic centers hold special programs for children, where they learn about the character and life of the Prophet, examine the way he dealt with important moral issues and with political and military affairs, how he handled challenges, and how he responded to his enemies and his friends. Children often prepare essays or skits that present important teachings or events in Muhammad's life. Many Muslims feel that the celebration of the Prophet's birthday is particularly important in the American context. As one Islamic publication explains: "In our Islamic countries, love of the Prophet…is found everywhere and is encouraged by the society…
I would like to say few words myself on recent happenings!!!
"In light of the recent tragic events, I would like to express my heartfelt condolences towards all who have been directly or indirectly affected. It is in times like these where we are reminded that human life is sacred, in fact all life is, and we should protect and bear responsibility for one another as equals in humanity.
‎In Islam, there is no place for mercilessness, let alone murder, oppression and brutality; and it is the tenets of Islam which teach us as Muslims today to stand strong in the face of terror where evil is committed in our names. We have been taught to bear patience – the Qur'an praises the virtue of patience – and to meet any evil with the Prophetic signature trait of mercy. It is the Prophet Muhammad ﷺ who taught us to not respond to wrong with wrong, but rather to exchange evil with nobility. Indeed, we may not be able to change the hearts and minds of others, but we can at least safeguard our own. Evil is not our teacher. The Prophet ﷺ himself was dedicated to the betterment of the people, individuals and communities; he believed in healing society through altruism, justice and hope. And on this day, we pray that God gives us the strength to embody his sacred way."