 New Youth Choir aims to reinforce British values in UK Schools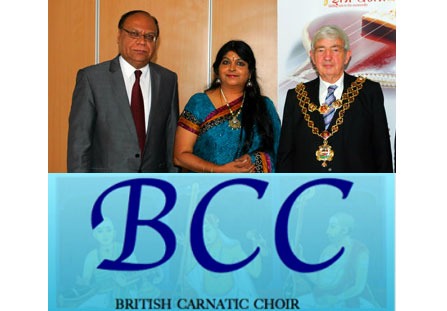 Pupils from an "Outstanding" Birmingham school are to participate in a pioneering East meets West-style children's choir, the first of its kind, ever, as part of a drive to reinforce British Values.
Around 120 Year 5 pupils from Greet Primary School in Sparkhill will next month take part in the inaugural British Carnatic Youth Choir. They will present a series of songs in Sanskrit, the ancient language, including one similar to the National Anthem of the United Kingdom, 'God Save The Queen'.
The British Carnatic Youth Choir is the brainchild of Dr Chithra Ramakrishnan, one of UK's finest Carnatic vocalists. Her mission is to raise awareness of this: 'mutual respect for and tolerance of those with different faiths and beliefs and for those without faith', one of four fundamental British Values, according to Ofsted, the schools watchdog.
Carnatic music is a system of classical music associated with the southern part of the Indian subcontinent. The violin was introduced into Carnatic music by Baluswami Dikshitar, the younger brother of Muthuswami Dikshitar, a South Asian poet and composer (1775 – 1835). He encountered the instrument through British bands in colonial Madras, and decided to learn it.
Almost all pupils at Greet Primary School speak English as an additional language. The British Carnatic Youth Choir is an off-shoot of the British Carnatic Choir, or BCC, which was officially launched in June this year.
Pat Smart, Headteacher at Greet Primary School said:
"Equality of Opportunity is at the heart of everything we do at Greet Primary School. We are delighted to have been offered the chance to participate in the British Carnatic Youth Choir, an exciting and inclusive experience for us all." 
The British Carnatic Choir aims to create and explore choral singing in South Indian classical music in the UK. With a key focus on children and young adults with a passion to connect through music, the
British Carnatic Choir aims to transcend this genre of music across the UK and beyond and to diverse communities.
The Lord Mayor of Birmingham, Lib Dem Perry Barr Councillor Ray Hassall said:
"As First Citizen of a multicultural, multi-racial city, it gives me enormous pleasure to support this event. I congratulate Dr Ramakrishnan on her concept and I hope it is embraced by as many people as possible as by doing so I feel it will bring together people and communities and make our city even greater and richer for its ever-growing diversity."
The British Carnatic Choir aims to identify and recognise people, particularly children and youth, of all abilities and from all walks of life who share a common passion to create a British Carnatic Community, one which reflects the multicultural mosaic of Great Britain.
It is Dr Ramakrishnan's mission to complement Prime Minister David Cameron's British Values in an attempt to encourage all citizens, but particularly our future generations, to respect each other's ways of life and to celebrate good work, through the sounds, words and pictures of the British Carnatic Choir.
Earlier this year, Shruthi UK hosted an event to mark International Women's Day, also a free Bharatnatyam dance workshop in support of World Autism Awareness Day 2015, working with Special Schools across the West Midlands.
The event will take place ‪on Friday 6thNovember from 11.00am till 12.30pm at South & City College Birmingham Auditorium. A separate celebration has been organised ‪on Saturday 7thNovember at the Adrian Boult Hall in Birmingham to mark the 10thanniversary of Shruthi UK, the parent Arts & Culture non-profit organisation of which Dr Ramakrishnan is Artistic Director.