 Police Continue Investigation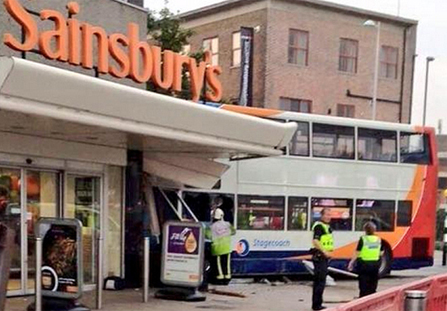 West Midlands Police is continuing their investigation into the death of two people after a double decker bus collided with a Coventry supermarket.

An eight-year-old boy from Leamington, who was travelling on the top of the bus, died at the scene as a result of his injuries. A woman from Nuneaton, believed to be in her 70s who was a pedestrian in Trinity Street, also died at the scene. Specialist officers continue to support the families at this time.

The collision occurred at 6pm on Saturday evening after the bus travelled along Hale Street colliding with a number of stationary cars and a lamppost before crashing into Sainsbury's supermarket.

Six other people suffered injuries and received hospital treatment, two remain in hospital – one of whom is in a critical but stable condition. One further person was treated and discharged at the scene.

A number of roads were closed over Saturday night whilst enquiries were undertaken to establish the circumstances around the collision. These have all now re-opened.

Superintendent Paul Keasey, head of the Central Motorway Police Group, said: "Our thoughts are with those affected by this tragic event; we have specially trained officers with the families at this difficult time.

"We hope to carry out a swift investigation and I would like to thank people who have already come forward who witnessed the collision.

"This is a busy area of Coventry city centre and we hope to keep disruption to a minimum as our investigation continues; no-one has been arrested at this stage.