 BYSA to Invest in Future Projects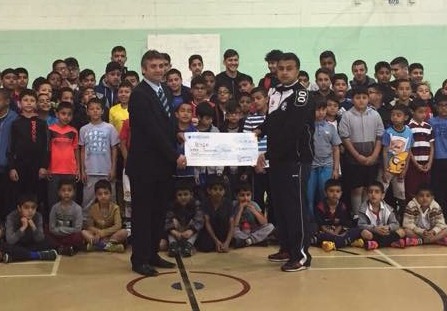 A local sports charity is celebrating after securing funding from a community fund. Birmingham-based, Birmingham Youth Sports Academy (BYSA) has been given a cheque of £3,000 to invest in its programme. The BYSA is now in its 13th year as a registered charity working with children from inner-city Birmingham. The charity is aimed as children who come from areas classed as deprived; these include Bordesley Green, Small Heath, Sparkbrook and Sparkhill.

The charity uses football as a tool for community cohesion, personal development of young children and as an outlet for health and wellbeing.

BYSA efforts have been recognised by Barclays Bank PLC who has recently made a considerable donation of £3,000 from their Community Fund. The cheque was presented by Obaidullah Khan, Assistant Vice President. Mr Khan spoke about his life living in Small Heath to his journey to current role Barclays Bank PLC. He was then applauded by the 160 children of all ages, making his story relatable.

The charity has said it will be using this donation to further develop those children who have demonstrated exceptional talent and ability to further progress themselves within the sporting ranks. Additional sessions have already been laid on for them at Saltley Leisure Centre, each Wednesday.

To keep with the ever growing number of children every Saturday's at Small Heath Leisure Centre which can be as many as over 200 the charity has made a decision to offer recreational football and some training so that those attending enjoy themselves and are able to make a decision in whether they would want to progress futher.

BYSA has also entered 2 teams in the under 10's and 12's leagues in the Sandwell League headed by coached Shak Hussain and Riaz Khan who have given up their valuable time and resources to ensure the teams are present and ready to compete, every Sunday.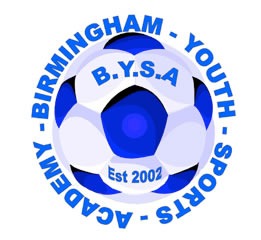 Speaking to The Asian Today, Chairman Majid Salim said the charity continues to benefit all sections of society. "BYSA has successfully launched its girls-only football academy which runs every Sunday between 11am – 1pm at Saltley Leisure Centre and run by two FA qualified female coaches. This has only been made possible due to the hard work and dedication of two of BYSA's very own coaches Niaz Khel and Bactia Khan.

Anwar Khattak, BYSA welfare officer indicated that BYSA's project for 2016 involve taking a large of children from its charity to a fascinating all day outing which is full of surprises this year. This includes activities in conjunction with Liverpool football Club or Arsenal Football Club.

"The BYSA committee continues to work harder and opening up wider opportunities for those who attend its sessions on Saturdays and works tirelessly behind closed doors to ensure local children maximise their potential." Mr Khattak added.