 Knife Surrender Bin Launch At Green Lane Masjid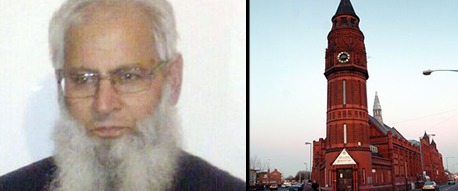 The continued development of the Communities Working Together initiative and following the recent launch of a New Knife Surrender Bin in Handsworth, a further New Knife Surrender Bin will be unveiled on Friday 7th August 2015 at 10.15am.  This will make a total of 9 in Birmingham and 11 in the West Midlands to date, to help make our streets safer.
The Location:
Green Lane Masjid and Community Centre
20 Green Lane
Small Heath
Birmingham
B9 5DB
Green Lane Masjid and Community Centre, a progressive organisation within the community, has identified the necessity to launch the project in the local Small Heath Community.  It will reach out to and encourage community organisations to work together on this vital project.  This will lead to a safer environment and a proactive neighbourhood partnership.
It must also noted that Green Lane Masjid has conducted funerals for recent victims of knife incidences.
The Knife Surrender Bin has been supplied by British Ironworks of Owestry and installed by Green Lane Masjid and Community Centre.  
Community Activist Desmond Jaddoo of Birmingham Empowerment Forum who has arranged for this new Knife Surrender Bin says: "This is just continuing "Live not Knives" with all communities working together and taking responsibility for making our streets safer for our neighbours, families especially our children in the ever changing face of Birmingham"
Amer Ijaz Centre Manager says, "Green Lane Masjid and Community Centre believes that it is for each of us to take responsibility for the society in which we live.  It is with this in mind that we have joined forces with the Birmingham Empowerment Forum on the Live not Knives project.  This initiative will empower individuals and groups to break out of a cycle of violent crime by joining this knife surrender in a trusted location.  God willing, such initiatives will pave the way for a new start for those previously involved in crime and will make our communities a safer place for everybody."
Deputy Police & Crime Commissioner Yvonne Mosquito says,
"One life taken by the use of a knife is one life too many.
This is a community-led project in which local people have taken a big step to get knives off our streets.
For this knife surrender campaign to succeed we all need to encourage the whole community to get behind it and once and for all say no to violence.
I fully support this initiative and would like to thank all those who have worked so hard to bring this about."
Detective Inspector Nick Dale, West Midlands Police's lead for knife crime, says, "Knife crime continues to fall in the West Midlands despite a slight increase nationally. However, people's lives are still affected by knife crime every day so we cannot afford to be complacent. Community initiatives like this are extremely important in the fight against knife crime.
The Knife Surrender Bin is to be unveiled by Deputy Police & Crime Commissioner Yvonne Mosquito and  Shabana Mahmood MP