 Ground Breaking Inter-Faith Project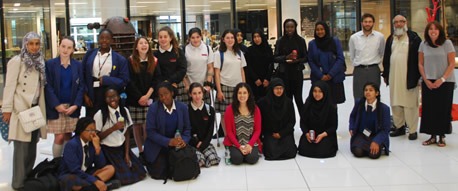 26 girls from three London faith schools have been given the chance to learn computer coding skills to help break the gender lock on professional computer coding.
Recent research showed that just 11.2% of technology leadership roles in Europe were occupied by women and more 23% of London tech startups have no women on the board.
To help address this imbalance the project, funded by Near Neighbours through the Department for Communities and Local Government, brings girls from different faith communities to work together to learn the skill they need to make their way into the world of computer programming.
Near Neighbours has been working since 2011 to bring people together who are neighbours in communities that are religiously and ethnically diverse, so that they can get to know each other better, build relationships of trust and collaborate together on initiatives that improve the local community they live in.
By bringing together girls from Muslim, Jewish, and Christian backgrounds, the project has not only taught a valuable skill but also exposed the students to cultures and faiths that they'd previously had little contact with.
The weekly project has been running since 29 April and has equipped the girls, from Ayesha Muslim School, Maria Fidelis Catholic School and the Yavne College Jewish School,  aged 12-13, with coding skills in Python, CSS, and JavaScript.
World-leading tech companies have also come on board with UK Twitter HQ providing inspiration by inviting the girls to meet their staff and hear the success stories of some of the women working at Twitter.
Communities Minister Baroness Williams of Trafford said:"Local communities across Britain have countless bright young people who have the potential to succeed in school and business. This course is a great example of how to unlock that potential and equip young people with the skills they need to get on it life. What's more it allows these girls to break down barriers in their local communities and show that when we share the same values, we all speak the same language – whether that's English or Java."
Founder of the project and Project Officer for Interfaith and Social Action for the Board of Deputies, Rabbi Natan Levy said: "Computer coding felt like such an obvious focal point for this project, not least because it is an emerging field, but even more so because in this currently fractured world it holds promise as a shared language."
Talia, a pupil from Yavne College who enrolled on the course feels that she's been inspired to pursue a career in tech, and learnt about unfamiliar cultures and made new friends in the process. Quote from one of the girls: "After the course I am definitely more interested in IT and coding, and I most enjoyed the chance to make new friends outside my general group"