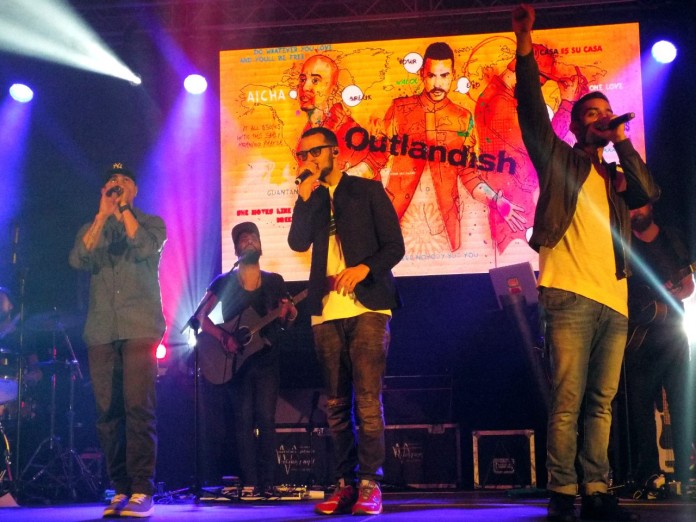 "At Penny Appeal, we're not just digging wells but we're transforming lives by strengthening and empowering communities."

Penny Appeal pulled out all the stops for their exclusive cross-country tour featuring Saif Adam and coveted Danish Band Outlandish, in aid of Water Projects world-wide.
Birmingham was buzzing as crowds gathered for the exclusive five stop tour organized by Penny Appeal, in hopes of raising funds for the worthy Water Projects cause.
The show got off to a humorous start as host for the evening, Adullah Afzal donned the stage. Better known as Amjad from popular BBC sit-com Citizen Khan, the well-known actor tickled audiences with his Desi-centric jokes, poking fun at Punjabis.
Talent was in abundance as the entertainment began with British-born nasheed artist Saif Adam, who lulled crowds with his melodic voice and charismatic persona. A surprise appearance by young nasheed artist Harris J, saw the two duet on an up-beat number.
Last but not least, final act Outlandish graced the stage in their first UK appearance in over 10 years. Crowds were not left disappointed as the group gave an effortless performance, consisting of old favourites such as 'Aicha' and 'Look into my Eyes.'
Despite the wealth of entertainment, the message of the night was not lost. An empowering speech by avid fundraiser Rizwan Hussain, gave an insight into the tireless work Penny Appeal volunteers are putting in to improve the lives of those less fortunate around the globe.
The new project seeks to build upon the numerous challenges Penny Appeal have already undertaken by installing running water into homes, a luxury we here in the West often overlook.
The Audience on the night dug deep and generously donated, raising over £30, 000 within a matter of minutes, helping the organisation on its way to providing fresh clean running water to those living in impoverished and drought-ridden lands.
Penny Appeals Regional Fundraising Manager, Haroon Mota said: "On behalf of Penny Appeal, we'd like to say a huge thank you to all who attended in support of such a worthy cause. We take water for granted as it's so easy to turn on the tap, but in the developing world, dirty diseased water is one of the most common causes of death. At Penny Appeal, we're not just digging wells but we're transforming lives by strengthening and empowering communities. Birmingham really turned up tonight. Many thanks to all of our guests, supporters and volunteers."
British Muslims TV's Bilal Hassam added: "Today we are honoured to be at the melting point of what it means to be a global Muslim and celebrate culture. We had Muslims, Christians and people from all over the world singing, giving a positive uplifting wholesome message and that's what we're all about at British Muslims TV, Being confidently Muslims, Comfortably British and today really showcased that."
Photographer Sanya Khaliq