 Mechanic Harjinder Singh Bhurji stabbed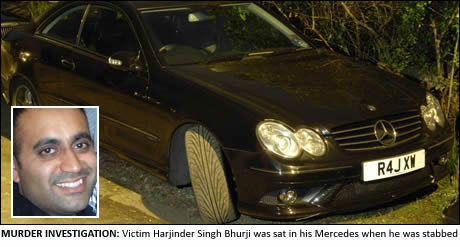 THREE men arrested in connection with the carjacking murder of a London garage owner have been bailed.
Harjinder Singh Bhurji, 32, from Ilford, was stabbed as he sat in his Mercedes, CLK coupe in the early hours of Tuesday 13 September. He was pronounced dead at the scene. A female passenger in the car was uninjured in the attack.
Police said three men have been bailed pending further enquiries to a date in late October.

A fourth man remains in police custody at an east London police station.
Police say Mr Bhurji was sitting in the car with a female passenger in Stoneleigh Road, Ilford, when the suspect suddenly appeared, opened the passenger door and dragged the female occupant from the car. The suspect then went to the driver's door and demanded the keys to the black Mercedes.
Mr Bhurji, a car mechanic and garage owner, who lived in Ilford, tried to hide them under his seat but the suspect threatened to harm his friend if he did not hand them over. However, before he had time to retrieve them, he was stabbed. Despite his injuries, the victim managed to retrieve the keys and hand them to the suspect who then drove off.

The car was found later abandoned in Forest Glade, Chingford.
Detectives are keen to hear from anyone who saw the car, possibly driving at high speed, anywhere between Stoneleigh Road and Forest Glade, a journey of approximately three miles.

Police say it is possible the suspect travelled down the A406 North Circular Road or through main back roads.

Detective Chief Inspector Phil Rickells is leading the investigation. He said: "The suspect appears to have been purely motivated by stealing the car because at this early stage we can find no other obvious motive.

"As far as we can tell, the victim did not know the suspect or why he might want his car. The Mercedes had a distinctive number plate and I would appeal to anyone who was out driving in the early hours to cast their minds back and let us know if they saw it."