 Birmingham Jame Masjid Mosque Among Locations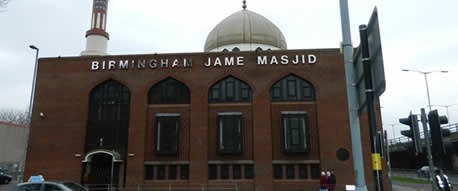 As part of a local heritage event, Birmingham Jame Masjid Mosque will be showcasing a traditional and historical educational programme. The event comes as part of the Aston Heritage Day – which runs on June 12.
Also taking part in the event is stunning 17th century mansion, Aston Hall. It will be opening its doors for free as part of a heritage day showcasing the area's historic landmarks and architectural gems.
Aston Hall is one of 12 attractions that will be showcased as part of this year's Aston Heritage Day, which will take place on Saturday June 13.
Admission to the hall – one of the oldest buildings in the area – will be free throughout the day whilst visitors can also enjoy free children's trails.
Other landmarks going under the spotlight as part of the Aston Heritage Day are Aston Villa FC, Aston Parish Church, Birmingham Jame Masjid Mosque and, for the first time, the beautifully-restored Aston Tavern.
Visitors can hop on a vintage double decker bus to travel between attractions, where a number of activities, trails and tours have been lined up.
People can also collect special 'passports' at the first venue they visit and collect stickers from each of the attractions for the chance to be entered into a free prize draw.
Rosie Barker, Community Engagement Officer at Birmingham Museums Trust, said: "This is the seventh time we've run Aston Heritage Day and this year we have 12 venues taking part.
"This is a chance for people to see the amazing places on their doorstep. From parks, playgrounds, to football stadiums, churches, mosques and museums, there is so much going on. We are delighted that people can get to know Aston better."
Timetables for the tour bus will be available from all of the venues involved.
Aston Hall: The stunning 17th century hall is one of the oldest buildings in the area. During Aston Heritage Day there will be free entry and free children's trails. The hall opens from 11am-3pm.
Birmingham Jame Masjid Mosque: Members of the public are invited to learn more about the mosque, which opened in 1988 originally as the President Saddam Hussein Mosque. Shoes should be removed on entry. Refreshments will be served.
Sacred Heart and St Margaret Mary Church: Built in 1922 this Romanesque church contains splendid mosaics and sculptures and has been described as one of the finest in the West Midlands. Free light refreshments will be served. Mass will take place from 12.30-1.30pm. Opens 11.30am-5pm.
Aston Villa FC: Visitors can learn about Aston Villa's history on a shirt 30-minute tour of the stadium. Tours leave every half an hour from midday – 3.30pm. Enter via North Stand reception to meet guides. Villa Park opens 12-4pm.
Aston Parish Church: People can visit Aston's oldest building and discover the area's history from 1086, whilst getting a glimpse of the First World War memorial. A children's trail, tours and free light refreshments will be available. The church opens from 11am-5pm
Aston Tavern: Now fully restored, Aston Tavern features in the annual Aston Heritage Day for the first time. The 110-year-old building is on the site of Aston village's Tudor inn. Visitors can get a glimpse of the past with a series of nostalgic photographs on display. Open 10am-7pm.
The Bartons Arms: With a stunning interior to delight visitors, the Bartons Arms is also offering a free light lunch to the first visitors from 12pm. (while funds last)
South Aston Church: The church is one of the Midlands' few octagonal buildings and is a major centre for community and social activities. Free refreshments, live music and tours will be offered throughout the day. Opens 11am-4pm
Aston Library/Birchfield Library: Visitors can see the resources and books on offer at both libraries, join children's hunts and enjoy refreshments. Both venues open 11-4.30pm.
The Drum: Why not join the diverse communities of Newtown, Lozells and Aston to celebrate the annual A34 Festival! Reclaim the streets for young people and families through a day of dance, live music, spoken word, arts and crafts and food. Open 12-6pm.
Tesco, Aston Lane: Members of the public can take part in an interactive 'Farm to Fork' tour with Tesco's community champion, which comes complete with food tastings. The tour starts at 11am and visits three departments.