 Tanu Weds Manu Returns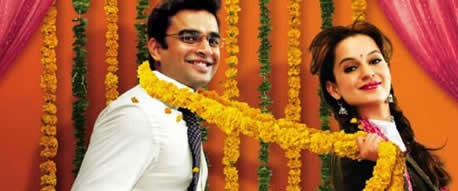 Actor R. Madhavan is back on the silver screen with the latest Bollywood super hit, Tanu Weds Manu Returns. Directed by Anand L. Rai, the film also stars 
Kangana 

Ranaut

 and is already a success story at the box office worldwide. 
Released in UK cinemas on Friday 22nd May, the film grossed £173,593 from 60 screens at cinemas nationwide which is the highest opening for a Hindi film in the UK so far this year.
Tanu
 Weds Manu Returns is co-produced by 
Krishika 

Lulla

 of Eros International and is the sequel to 

Tanu

 Weds Manu (2011) and also stars Jimmy 

Shergill

 & 

Deepak

 

Dobriyal

.
Madhavan

 spoke to Bollywood reporter Sunny Malik about the film and much more…
How has the journey been of revisiting 'Tanu Weds Manu' four years later?
It's been great. I never thought of a sequel when I finished the first movie. It's great that we had the exact same cast, crew and junior artists on the sequel as well. The story is true to the timeline and starts off four years right after the point where the first film finished. It's all very exciting to see what has been happening in their lives.
The first film faced difficulties finding a distributor. Eros International is now co-producing and distributing it worldwide. Did that make the process of making the film easier for you as an actor?
Absolutely. Also, our director, Anand L. Rai, had a success story with the first film and Raanjhaana was also a hit. That made a difference as he has become very saleable. Kangana also had Queen behind her and the National Award etc. There is a lot of curiosity with her. Eros coming on board helped but I feel it's a combination of all three.
Kangana
 has also evolved quite a lot since you last worked with her. What differences did you see?
She was a fine talent even when we did Tanu Weds Manu. Now she is definitely a force to reckon with. It was a pleasure working with her because now you're on your toes and you need to pull up your socks. You need to hit a sixer when the ball is thrown at you.
Tell me about filming in London for the sequel…
In the original movie, Manu was a Doctor from London. He goes back to London after his wedding with his wife. We had to show what occurred in their lives. We only filmed in London for three days. That is all what was needed. There was hardly anything to do there. Even though, we had the privilege of coming to London, the story is primarily set in India.
Did you see differences between the double-role that  was playing even off-screen?


I did see two sides of her depending which character she was portraying at the time. Her body language and accent, everything would change. It think it was really fascinating.

Kangana
What have you been up to since  Weds Manu?


I took a break. Even the last South Indian film that I did was in 2012. I just took a sabbatical and I didn't want to do any movies. I wanted to push myself into a corner and see if I still have that fire in my belly. I thought, I will be back if the industry would still want me. Luckily for me, Anand L. Rai approached me for this film. He didn't have to convince me. I was eager to get back. I already knew that working with him will be challenging and something different.

Tanu
The film is on general release across the UK now.