 On Her First Foray into Hollywood's Action-Comedy Scene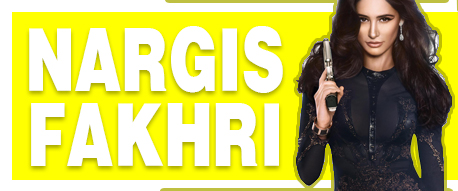 Bollywood diva Nargis Fakhri has made her first foray into Hollywood with action-comedy film, Spy, also starring Melissa McCarthy, Jason Statham, Rose Byrne, Miranda Hart, Bobby Cannavale, Allison Janney and Jude Law. 
The sultry actress plays a negative role in the film and has a major action sequence with actress McCarthy in the movie. 
Born in New York to Pakistani and Czesh parents, Nargis made her Bollywood debut opposite Ranbir Kapoor in Rockstar and was most recently seen in Main Tera Hero with Varun Dhawan. 
Speaking to The Asian Today before she wowed fans and the paparazzi at the London premiere of the film, Fakhri said, "I love London, especially when the weather is nice. It's really close to Mumbai too as it's only eight-hours on a flight compared to sixteen-hours to New York or even twenty-four-hours to Los Angeles."
Directed by Paul Feig, Spy came to Nargis when she met the film-maker in LA. "It was quite surprising that he knew about Bollywood and Indian cinema. He knew about the work that I had done. We were having a meal when he mentioned to me that he will be starting a movie and there is a role that he felt I was perfect for. He asked me whether I would have time for it. I said yes immediately," said Fakhri.
Nargis isn't the first Indian actor to feature in a mainstream Hollywood film. The Indian press often ridicules actors, such as Anil Kapoor in Mission Impossible 4, about their blink-and-miss appearances. Nargis isn't worried about it though. 
"I realised that Hollywood and Bollywood are very separate things. They don't get each other. They have a different way of doing things. I am born in New York City and was exposed to American cinema from a young age. You don't get judged for having small part in a film. It doesn't work the way in Bollywood. You have to work there with the big guys."
"It's a big deal for me to be on-screen for this movie even just for a few minutes," stated Nargis.  
20th Century Fox released SPY in UK cinemas on 5th June 2015.