 Muslims in the First World War
Just over 100 years ago, in 1914, a war in Europe Broke out. It lasted 4 years, ending in 1918.
We call it the First World War. The impression sometimes is that that the First World War only happened in Europe – and that it only involved Europeans.
We now know that the First World War also involved the other parts of the world – other countries.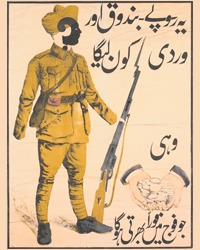 For Britain, that meant its Empire at the time. This included getting soldiers and other personnel from the Caribbean, from Africa and, especially, from India. It is only more recently that the contributions and sacrifices of peoples from the former Empire has been documented and celebrated.
We also know that, in Birmingham and across Britain, there are many Asian's who descended from those who fought. That they have stories and memories of their ancestors – even medals and certificates.
In Birmingham, the Heritage Lottery Funded project Connected Histories: Muslims in the First World War (being run by Xtra Mile West Midlands CIC) has been set up to collect stories of what people know about their ancestors (however little they think they know – we still want to know). The project is working with communities and organisations such as museums and libraries to help tell that story. We know this history is under-represented. It is time to discuss this more openly.
The project is looking for the following:
People who are descended from Muslim soldiers who fought in World War One. We would like to hear about your ancestors. It doesn't matter if you do not know much, we are still interested. We are hoping to do interviews

People who might want to volunteer on the project. There are lots of activities that the project would like your support on, including researching, helping with finding people to interview. Helping the project with doing events

People who want to participate in a workshop on World War One history and Muslim contributions, including about what the project is doing, what it has found so far, and how we can improve understanding of Muslim contributions in British history
The project is also holding a series of events from September through to November. On Saturday, 12th September, the project will hold an event in the community to present about this history and to have a debate about what it means for Muslims in Britain. Event details will be provided shortly. Details about other events will also be provided when we have them.
The project team is:
Izzy Mohammed (Project Manager)
Jahan Mahmood (Project Researcher)
If you have are interested, especially, if you have stories about Ancestors who fought, then please contact Izzy Mohammed on izzymiyaghi@yahoo.co.uk or 07932 985 267