 Residents Take Stance Against Street Dealers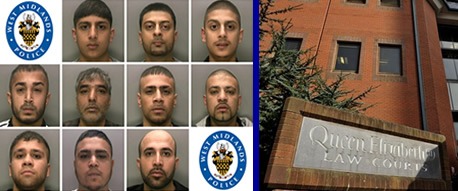 *Pictured in the montage (left to right): (top) Itsham Chohan, Jabran Bhazad Chohan, Usman Chohan. (middle) Hamza Sufi, Balvinder Singh Heer, Badar Iqbal, Zafar Iqbal. (bottom) Harras Khan, Raja Mujtaba Lodhi, Salam Mohammed.
Members of a friends-and-family drugs ring smashed by West Midlands Police have been jailed for a total of almost 30 years in a victory for residents fed up with street dealing near their homes.
Officers in Sandwell carried out a series of raids last September in response to suspicions over kerbside cash exchanges reported by Neighbourhood Watch members in West Bromwich, Stone Cross and Wednesbury.
Handsworth brothers Zafar and Badar Iqbal, from Taverners Green, and brothers Usman and Itsham Chohan from Westminster Road, plus cousin Jabran Chohan from Selston Road, Aston, were arrested during dawn raids on 16 September.
Two days later detectives moved in to apprehend drug runners Salam Mohammed (39) from Foleshill Road, Coventry, and 47-year-old Balvinder Heer from Grestone Avenue in Handsworth.
Ringleader Harras Khan, from Crompton Road in Handsworth, was on bail at the time of the warrants having been arrested on May 22 from a car that sped away from police in West Bromwich.
A bag containing drugs was later found protruding from 21-year-old Khan's backside during a strip search, while a tub of Vaseline and £1,000 in cash was seized from the car.
At Birmingham Crown Court last week (14-15 May) Khan was jailed for six years; Zafar (21) and 23-year-old Badar Iqbal handed 27-month and 40-month sentences, while Usman (20), Itsham (18) and 25-year-old Jabran Chohan were imprisoned for 30, 36 and 28 months respectively.
Mohammed and Heer were given 30- and 32-month prison terms, while serving Birmingham prisoner Hamza Sufi (23) was jailed for another three years and 18-year-old Mujtaba Lodhi from Hutton Road, Handsworth, got 18-months for his role in the drug network.
Itsham and Usman Chohan denied being involved but were found guilty of conspiracy to supply heroin and crack cocaine – the other eight men admitted the same offence.
Detective Sergeant Wayne Dudley, said: "This group were polluting the streets of Sandwell with their drug dealing…the value of their empire is hard to estimate but in December 2013 one of the drugs phones they used received around 22,000 calls and texts.
"Local residents decided enough was enough and reported their concerns to us. And from the start of 2013 we routinely intercepted members of the gang as they cruised the region in hire cars, disrupted their activity, and gradually built up a picture of their drug dealing. That culminated with a series of coordinated raids and arrests last September.
"I'd like to thank the public for the information they provided which led to these convictions – and I'd urge anyone else who suspects drug dealing in their neighbourhood to follow their lead and also contact their local police so they can take action."
North Sandwell Police Inspector Akeel Najib, added: "We have spent a long time gathering intelligence on these men so naturally we are pleased with the jail sentences. However, we're not complacent and our blitz on dealers continues.
"Drugs can have a huge negative impact on communities and residents are affected not only by the drug dealing and use itself but also by the associated anti-social behaviour that often occurs."
Anyone affected by drug crime is urged to call their police on 101. Alternatively people can leave information anonymously by calling the independent charity Crimestoppers on 0800 555 111.