 Event Raises Awareness of Punjabi Culture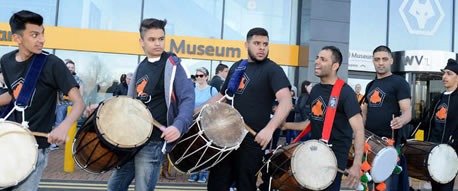 Some of Wolverhampton's most passionate football supporters came together in a spectacular mix of drumming and dancing to raise awareness of their culture.
The Punjabi Cultural Day, created by the famous Punjabi Wolves Supporters, was a day to bring together the shared love of the beautiful game and the Punjabi culture and the Sikh religion.
While a circle of young members of the group banging on their Dhol drums attracted a huge crowd, fans of other faiths learned more about the rich historical culture behind the religion.
Andy Sahota, from the Punjabi Wolves Supporters Group, said, "We've been wanting to do this for many years.
"It is about educating people on our culture and getting them to engage with it. This is what we are all about, having a good time, throwing a fun party and welcoming everybody to join in. I love to see people getting together and celebrating the things we have in common."
The game marked a huge moment for them, as a section of the group were allowed to give a performance on their Dhol, an instrument seen at many Asian weddings and in Bollywood films, at half time.
It is the first time the instruments have been allowed inside Molineux.
A game of kabaddi, a contact sport that originated in the Punjab region, was also played on the pitch at half time.
Mr Sahota said, "It is a big moment for us and it something we would like to try and extend in the future, hopefully using the Dhol to spur on the players.
"The drums bring a unique atmosphere, when they play you can feel the excitement in the air."
Danny Batth, captain and central defender for Wolves and ambassador of Punjabi Wolves Supporters, who is also of Punjabi descent, said, "I am honoured to be the Punjabi Wolves Supporters ambassador as they have always been present throughout my career, building awareness within the Asian football community."