 Lord's to Host British Asian Cricket Celebration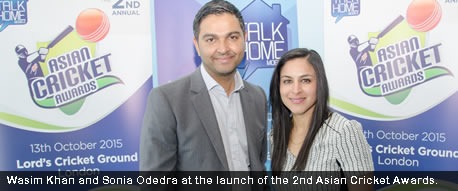 Following on from the success of last year's event, when England star Moeen Ali lifted the Player of the Year trophy, the Talk Home Mobile Asian Cricket Awards will again take place at Lord's Cricket Ground this year bringing together representatives from the professional game along with international players, celebrities and dignitaries from across the sport for a star-studded awards evening at Lord's on 13 October.
The ground recently saw the Asian Cricket Awards 2015 media launch with sponsors and cricket professionals in attendance.  
Jas Jassal BEM (Inventive Sports, co-founder Asian Cricket Awards) said, "The Asian Cricket Awards is the ideal platform to recognise and celebrate South Asian success in cricket.
"There are role models all over the UK with inspirational stories, from those who volunteer, to those who have made cricket their full-time career. What better place to celebrate their achievements than at the home of cricket, Lord's."
Baljit Rihal (CEO Inventive Sports, co-founder Asian Cricket Awards) added, "This year, our awards promise to be bigger and better. Our objective is not only to raise awareness of the fantastic achievements of individuals and organisations – but to help inspire future generations of British Asians in cricket."
The England and Wales Cricket Board provide continued support to the awards recognising the platform that it provides for the South Asian cricket community. The ECB have sponsored a new award for 2015 – the Diversity Project Award, which is open to county cricket clubs to highlight their work engaging with their local British Asian community.
"The ECB is delighted to give the Asian Cricket Awards our whole-hearted backing. The awards are a great way of recognising and rewarding the contribution the South Asian community makes to cricket at all levels and we are proud to be official partners for this prestigious event once again." Tom Harrison (Chief Executive Officer, England & Wales Cricket Board)
This will be a celebration of the contribution made to the sport by British Asian players, coaches and administrators. High-profile ambassadors for the event include England internationals Moeen Ali, Ravi Bopara and Vikram Solanki, and Pakistan international Azhar Mahmood.
"The Asian Cricket Awards is a great initiative that recognises the entire cricket industry. I'm proud to be an ambassador for the ACA 2015, during my benefit year with Essex." Ravi Bopara (England, Essex and Sunrisers Hyderabad)
"I believe in putting back into the community and hope that future generations can draw inspiration from this much-needed intitiative." "I'm very proud and privileged to be a part of the Asian Cricket Awards as an ambassador. I was fortunate enough to win the player award last year and am glad that I have helped in a small way to showcase the event."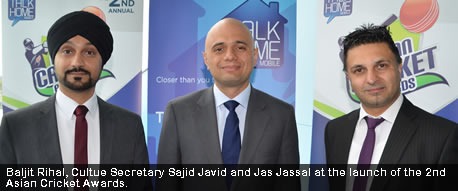 "I am very proud of my heritage and honoured to be representing England – the British-Asian talent pool is immense, I really hope to see more players make it through to the top level. "
"An event such as this, at Lord's the home of cricket, really helps to give Asians that platform they deserve." Moeen Ali (England and Worcestershire)
The Secretary of State for Culture, Media and Sport, Sajid Javid, spoke of his love for cricket and dream of being at Lord's.
"I love cricket. I was born in Rochdale and most of my earliest memories are of playing the game."
"I always dreamed of being at Lord's and standing alongside some of the finest cricketers in the land and the Asian Cricket Awards allowed that dream to come true for me last year, albeit not quite in the way I imagined."
"In terms of participation and involvement, cricket has changed a lot in recent years. More and more people take part from right across the UK and from all different backgrounds – not least British Asians. That can only be great for the game."
"I congratulate Inventive Sports on putting on this great event and look forward to another successful Awards ceremony in 2015."
The award categories for the 2015 Asian Cricket Awards, sponsored by Talk Home Mobile, are as follows:
–
           Professional Player of the Year
–
           Woman in Cricket
–
           Coach of the Year
–
           Professional Young Player
–
           Asian Cricket Club of the Year
–
           Amateur Player of the Year
–
           Behind the Scenes
–
           Diversity Project Award (sponsored by ECB). This new award is open to county cricket clubs to highlight their work engaging with their local British Asian community.
The Asian Cricket Awards feeds into a long term strategic plan to aid the progression of the South Asian community being represented at a more national level within the sport, both on and off the field. This will also help the community take on responsibility on developing their own future, become self-sufficient, where there no longer needs to be a South Asian strategy.
Award nominations open online on Monday 1 June 2015 and close on Monday 17 August 2015.