 Re-Elected President Announces New Committee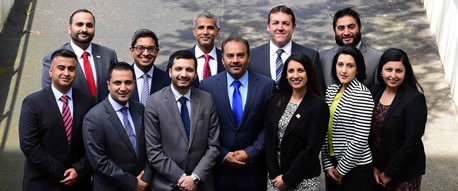 The Institute of Asian Businesses (IAB) is playing a key role in Team Birmingham, the movement backing the city's "massive revival," the organisation's president, Saqib Bhatti, told members at its annual meeting.
Mr Bhatti, who was re-elected for a second term in office, added  that, through its membership, IAB  – the largest ethnic support organisation in the UK and part of Greater Birmingham Chambers of Commerce –  represented a  significant force in the continued  development of the business community.
Looking to the future, he said that a key activity would be to see the organisation represent and lobby on issues that were of concern not only to members but also the wider Asian business community.
IAB would also give priority to delivering high quality business services to support growth within the membership, providing full support to existing Patrons and Premier Plus Partners and securing greater exposure of IAB and its members via social media platforms, such as Facebook and Twitter.
"Our voice is being heard at the highest level," said Mr Bhatti, who added that discussions had been held on matters such as business rates with Government and  Opposition spokesmen.
Although IAB has an impressive list of partners and patrons it will during the coming year be looking to increase membership of individuals and SMEs, who remain a key strength of the organisation.
"We must not forget that SMEs are the backbone of the country,"  said Mr Bhatti, who last month joined the board of the Greater Birmingham & Solihull Local Enterprise Partnership as a director.
He said that one of the attributes of IAB was its stable membership. However, a full programme of events and networking activities – including its ever-popular annual dinner – was also instrumental  in contributing to its success.
"Last year the annual dinner was one of the most successful in our history, 600 tickets selling out two months in advance –indicative of the value, energy and standing of IAB in the wider business community,"  he said. This year's event, scheduled for November 21, will have a Diwali theme.
Honorary chairman Nasir Awan , who said that IAB, in 2014, had enjoyed its most successful year, told members he believed that IAB was the catalyst for providing the opportunities for the Asian business community.  "We have a fantastic platform from which to develop and further represent our community," he added.
At the annual meeting, IAB members also elected two new vice-presidents – Anita Champaneri, a director of public relations and events company Delicious PR and Waheed Saleem, non-executive director,  Caring Minds Charity.
Also selected to the executive committee are Lakhbir Singh, business development manager, BCRS Business Loans;  Aftab Chughtai, owner of Aftabs;  Nasir Awan, managing director of Awan Marketing plc;  Omer Simjee, partner, Irwin Mitchell; Kadeer Arif, managing director, KA Consulting; Majid Salim, director, Kingsland Business Recovery; Aftab Rahman, director, Legacy WM; Manjit Kang, real estate finance manager, NatWest; Shaun Hindle, senior director employment and skills, Solihull College and University Centre; Kavita Parmar, director, Word 360 Language Services and Dr Haseena  Lockhat, managing partner, Vista Apartments.