 Winners Announced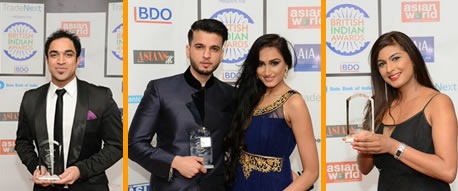 The winners of the British Indian Awards presented by TradeNext in association with BDO LLP, were announced yesterday evening, at the prestigious ceremony at the Chateau Impney Hotel, Worcestershire.
The evening was a celebration to the success and achievements of Britain's Indian individuals, groups and business people. The ceremony was one of recognition and celebration, which highlighted the significant role Indian's play in contributing to a better Great Britain.
"The calibre and scale of talent present at the British Indian Awards is a testament to the commitment and hard work the British Indian Community holds, coupled with the opportunities available in the United Kingdom, I pray that we continue to see contributions of this sort in future years." Commented Mohsin Jameel, CEO TradeNext.
Hosted by Kamlesh Purohit of BBC Radio Leicester, over 300 people attended the glamorous event, including singer and songwriter Navin Kundra and some of the cast of Desi Rascals.
There were twenty awards presented on the night, the winners are:
Rising Star Award went to Rav Bagri (Santander Corporate & Commercial).
Best in Creative Industries went to Nitin Dahad (Tech Spark).
Best in Science and Engineering went to Mamta Singhal (Mattel).
Best in Medical went to Professor Pankaj Sharma (Royal Holloway, University of London)
.
Best in Civil and Third Sector Service went to Ravi Chand (HM Revenue and Customs).
Best in Media went to Sanjiv Buttoo (BBC Radio York).
Best in Education went to Professor Kiran Trehan (University of Birmingham).
Best in Accounting went to Ebrahim Sidat (AMS Group).
Best in Legal Services went to Dee Kundi (HL Solicitors).
Arts & Culture Awareness went to Piali Ray (SAMPAD).
Best in Sport went to Rajiv Ouseph (Olympics, Commonwealth, English National Badminton Champion).
Indian Spirit in the Community went to Nisha Tandon (ArtsEkta).
Young Achiever of the Year went to Amit Pate (Snapify Ltd).
Family Business of the Year went to PallMall Medical (Manchester).
Leaders in Finance went to Ashminder Kaur (Hedgefund Hotel).
Outstanding Achievement Awards went to Geeta Srivastava (Magic of India).
Businesswoman of the Year went to Anjna Raheja (Media Moguls).
Businessman of the Year went to Sam Sangha (Asiana Ltd).
Business of the Year went to Octavian Security.
Entrepreneur of the Year went to Sukhvinder Javeed (Milkysnugz).