 Organisers Praise Successful Event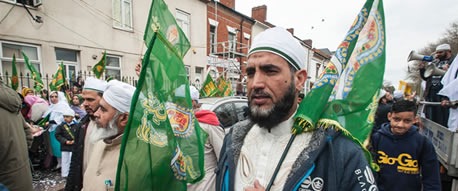 Over 30,000 people assembled in Birmingham, celebrating the birth of the Prophet Muhammed.   
The Milad procession, which has become an annual event, saw thousands gather in Aston Park following a parade from the Victoria Road Mosque.
What has become to be known as the largest Milad celebration in Europe, it saw six giant marquees put up in the park to accommodate attendees.
The parade included a horse-drawn carriage and much waving of bright banners and flags.
Politicians of all parties were welcomed to the event, with all calling for an end to Islamophobia. Members of all other faith groups were also in attendance.
Organiser Sahib Zada Arfeen said, "Firstly today is about celebrating the birth of our prophet and secondly we are part of the movement for the protection of the honour of all the prophets in the light of the comments made in France. People are here from all over the UK and Europe."
The ceremony was led by Hazrat Qibla Pir Alauddin Siddqiui Sahib, chairman of the Victoria Road Mosque.
MP Khalid Mahmood, said, "This is a huge event involving the whole community, it has grown over ten years. It is a very important celebration."
He was joined by Liam Byrne, John Hemming, Shabana Mahmood and John Spellar, as well as Lord Mayor of Birmingham, Shafique Shah.