 Mark Hands Wins Assistant Solicitor of the Year At Birmingham's Legal Awards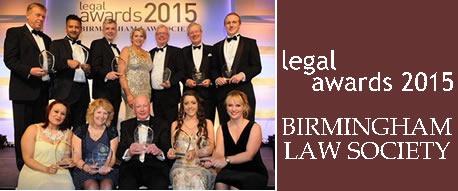 A West Midlands family lawyer from Irwin Mitchell has been named Birmingham Law Society Legal Awards Assistant Solicitor of the Year.
Mark Hands who is from the divorce and family law team at Irwin Mitchell's Birmingham office and specialises in a variety of family-related issues from straightforward divorce cases, to complex financial claims concerning business assets, described the win as humbling.
He also acts regularly in cases involving the Children Act, child abduction and claims concerning property trusts.
Mark is also a registered lawyer with the Football Association and has specialist expertise in cases involving professional footballers and has built up a strong reputation advising families within the Asian community.
More than 500 guests attended the ceremony at the ICC in Birmingham which was hosted by Joshua Rozenberg, a legal commentator and presenter of BBC Radio 4's Law in Action programme, with England rugby legend Brian Moore as the guest speaker.
Nicola Walker, Partner and Head of the Birmingham Family Law team at Irwin Mitchell, said: "Mark is a very deserving winner of this award and we are proud of his work on behalf of his clients. Our job as family lawyers is to help our clients deal with the legal, emotional and practical consequences in the immediate aftermath of a separation.
"It's not always easy but Mark has shown that he is willing to put his clients first and achieve excellent results to help them come through a difficult time in their lives."
Full list of winners:
Trainee Solicitor of the Year
Katie Willems, Higgs & Sons Solicitors
Barrister of the Year
Tariq Sadiq, St Philips Chambers
Chartered Legal Executive of the Year
Alison Hancock, SGH Martineau LLP
Paralegal of the Year
Natalie Moustache, Anthony Collins Solicitors
Assistant/Associate Solicitor of the Year
Mark Hands, Irwin Mitchell Solicitors LLP
International Lawyer of the Year
Michael Stephens, Kings Chambers
Partner of the Year
Derek Adamson, DWF
Corporate Social Responsibility/Pro Bono Lawyer of the Year
Ian Henery, Ian Henery Solicitors Ltd
Law Firm of the Year (sole practitioners to 4 partners)
Averta Employment Lawyers
Law Firm of the Year (5 to 15 partners)
Sydney Mitchell LLP
Law Firm of the Year (16 plus partners)
Eversheds LLP
Lifetime Achievement Award
Bernard Shepherd