 Thirty Runners Run Coventry Half Marathon for Young Cancer Patients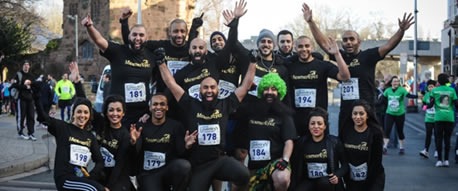 A team of 30 Coventry and Birmingham locals dubbed #TeamMesmerEyez joined forces and ran the Coventry Half Marathon on Sunday 1 March, raising £10,000 for Teenage Cancer Trust to help local young cancer patients across the West Midlands.
The team was spearheaded by Haroon Mota who works as a Youth Support Coordinator on the Teenage Cancer Trust ward at University College Hospital in London. Haroon, a Coventry resident who commutes to London for work, has a passion for fundraising and chose to support Teenage Cancer Trust because he knows all too well how important it is to support young people with cancer so they don't feel isolated.
Haroon says: "Teenage Cancer Trust is a truly amazing charity. It is vital that we continue to raise funds for them, as at the moment, for every young person the charity can help, there is another they can't."
Student Amandeep Dhaliwal, 17, from Coventry, knows first-hand the benefit of being treated on a Teenage Cancer Trust ward. Amandeep underwent chemotherapy and radiotherapy treatment for over a year and a half and said: "Young people need the help and support of specialist wards and staff. The ward I was treated on in Birmingham had lots of activities so there is always something to do like watch Sky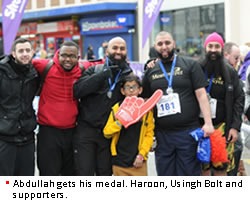 TV, play computer games. It's also good to have support groups to go out with, like going to Nandos and bowling, so you don't feel isolated and alone."
The team of thirty mainly novice runners completed the 13.1 mile race in Coventry on Sunday 1 March. The team were sponsored by local cosmetic company MesmerEyez who have funded the teams' registration fees and running vests.
Riz, Managing Director of MesmerEyez also completed the race for the first time: "This is the 3rd consecutive year that we've sponsored Haroon's team at the Coventry Half Marathon. His efforts have raised almost £20,000 for great causes in the previous two campaigns, and I've always found excuses for myself when he's tried to recruit me to run. But when he told me that this year's campaign was in support of Teenage Cancer Trust, I realised I couldn't just sponsor and spectate. I had heard so much last year about the charity in the media through Stephen's Story, and know very well about Haroon's work on the Teenage Cancer Ward at University College Hospital in London, so MesmerEyez were proudly backing the cause 100%. I completed the Half Marathon in 2hrs 15 minutes with very little training and being part of this team has made me want to do much more in the future."
Haroon said "It was a great achievement that the entire team completed the 13.1 mile run. For most of the group they'd never done anything like this before. It was tough work, and many of them came through the finish line hobbling and even wobbling. In particular, one team member Abdullah Daya, who would never have dreamed about running a half marathon three months ago, put in a great effort jogging and walking himself through the full distance in three and half hours, crossing the finish line to huge cheers and support."
Abdullah Daya (Coventry): "It was by far the hardest thing I've done in my life. At times it felt like the mile markers would never come, and I wasn't getting any closer to the finish line. The support from the public spectators was amazing and kept me believing I could do it. The final stretch was the toughest, but our team leader Haroon and fellow runner Usingh Bolt came back to meet me at mile 12 and helped get me through the last mile. The finish line was in sight and the Teenage Cancer Trust cheer station were so loud, and they gave me the energy to get my jog on again and cross the finish line. I can't believe I did it."
Lee Brotherton (Birmingham): "The run was painful but the journey was worth it. My little brother had cancer several years ago and I was lucky enough to see him pull through. Teenage Cancer Trust is an amazing charity and that's why I chose to run. I ran a 5k race over a decade ago and hadn't done anything since, so it was amazing to a great achievement for me to complete the race".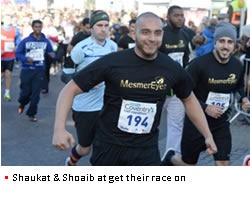 Aneesa Hussain (Coventry): "I can't describe the emotions when crossing the finish line. It was the second time running for Team MesmerEyez, led by the amazing Haroon Mota. He truly is an inspiration to me because he makes you believe and gives your support from the day you sign up until the end. The support continues even after the race, and sets you up for the following year, which I am ready to do already with #TeamMesmerEyez."
Zaheer Khan (Director of Fundraising & Communications – Islamic Help): "It was a great feeling to be part of such a diverse team raising money for a cause which affects us all. Although many chose not to mention why they were running for Teenage Cancer Trust it was obvious that the charity supported causes and cases which were close to the hearts of many members of the team. To raise £10,000 (with more money flooding in daily) is phenomenal and to consider that many of the participants of the team had never run prior to this, is amazing. Personally, running with my wife every step of the way was an honour and helped us to strengthen and further develop the bond we have. A great cause and great memories."
Mohammed Malik (Coventry) running for a second time with Team MesmerEyez: "I've ran three half marathons before but this was by far the best. The team effort was just amazing. The camaraderie and banter was great. The team fundraising effort was awesome". 
Tufail Hussain (CEO of Orphans in Need Charity – London): "It was a great day out with a bubbly team of characters. The challenge itself was very tough. Haroon was brilliant in the run up, very organised and always encouraging. I'd highly recommend joining Team MesmerEyez next year".
Barinder Johal (AKA Usingh Bolt) (Walsall): "Having seen Team MesmerEyez at last year's Coventry Half Marathon, I was delighted when Haroon asked me to join them this time. I hadn't planned on running this year but was inspired by the cause, and the enthusiasm of the team, especially Haroon. It was an amazing team effort and everyone from the first timers to the more experienced runners made it a fabulous day. Not to forget the amazing vocal support we had. I'm definitely in for next year."
Emily Cooper, Regional Fundraiser for Teenage Cancer Trust said "Thank you so much to Haroon and #TeamMesmerEyez for their hard work and dedication. Running a half marathon is an incredible feat and we are delighted they have raised nearly £10,000 which will help Teenage Cancer Trust to support local young people with cancer."
Haroon is now training for his next challenge, also for Teenage Cancer Trust – running 26.2 miles at the London Marathon on 26 April (
www.justgiving.com/Run4TCT
).