 Event Declares Women are the Best Weapon against Extremism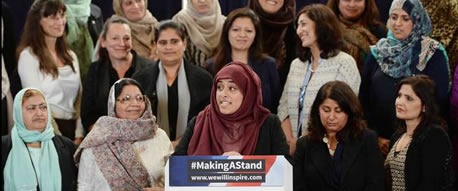 A group of women have met in Birmingham to discuss ways of how they can fight extremism. Under the campaign of #MakeaStand, created by Inspire – the counter extremism organisation, the event was organised before three teenage schoolgirls left Britain, thought to be heading for the Islamic State.
Sarah Khan, Director of Inspire said, "We know that these three girls from East London are following in the footsteps of 60 other young women. Women are the backbone of our communities and the first line of defence against radicalisers. We know that our role in challenging extremism is vital and honourable. As British Muslim women, we value and believe in the principles of democracy, human rights and respect for all life.
"This is in complete contrast to the sheer evil and barbarism of the very 'un-Islamic' extremist groups who murder, rape and steal in the name of Islam. Abhorrent groups like ISIS and Al Qaida distort the teachings of our faith and are a menace to our way of life – our families, communities and women's rights.
"We have seen first-hand in our communities the damage caused by extremists polluting young minds – and we must do all we can to protect our sons and daughters. We believe it is imperative to reclaim our faith from extremists who have hijacked it to falsely justify their barbarity.
"We call on British Muslim women to stand in solidarity and join us at #MakingAStand events."
Islamic State have been able to use social media to spread global propaganda. One Muslim mother taking a stand against IS, said, "There is nothing Islamic about what is happening out there. These girls are not going out there as jihadi brides, they are being enticed out there by lies, they are being groomed."