 Police Car Crashes into Family Car

A pregnant mother and family were driving from hospital when their car was "rammed". Mother of two Shiri Rahman her husband Abdur, sister Rujeena, and her five-year-old son Mohammed Eesaa were driving home early one morning before being bombarded by police cars.
They were confronted by three cars, one with officers which crashed into the back of their Lexus. They suffered from back and neck pain as a result. It was revealed that their car had the same registration plate as a vehicle with cloned plates that was used in an armed robbery.
Mrs Rahman, 34, a counter assistant in a chemist, said, "You think stuff like this happens in the movies. You don't expect it to happen in real life – even less be in the middle of it."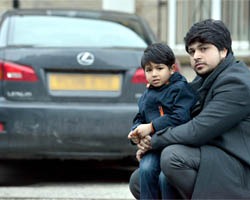 The family had taken Mohammed Eesaa to the accident and emergency unit at Bradford Royal Infirmary after he developed a temperature. After being diagnosed with a virus he was given medication and discharged. The family stopped for a fast food takeaway and drove home along Ingleby Road when the crash happened at around 12.30am.
Mrs. Rahman spoke of her shock, "It all happened in a flash. My husband slowed down to let the car behind us pass. It went in front of us and braked, forcing my husband to stop.
"Another car pulled up beside us and then a third one came up behind and hit us in the back. I was jerked forward and then back in my seat and our food went everywhere."
Whilst Mr. Rahman was taken into a police car and checked another officer entered the family's car and took their details.
Mrs Rahman said, "The officer explained they had information the vehicle had been involved in an armed robbery and they had to take full precautions to make sure the robbers did not get away, which is why they had to do what they did."
Detective Superintendent Jon Morgan, of Bradford District Police, revealed that the suspected vehicle was later recovered.