 Event Marks Birth of the Prophet Muhammad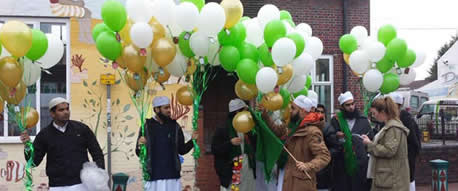 Muslims in Birmingham joined over1 billion fellow believers around the world to celebrate the birth (Mawlid) of the Prophet Muhammad, the founder of the Islamic faith some 1400 years ago. The event, which is celebrated on the Islamic date of 12 Rabi-al-Awal, landing on Saturday 3
rd
January 2015
,
waspart of the celebrations in which British Muslims coordinated a unique worldwide initiative becoming known as 'Mawlid in the City.'
Theobjective was to engage with local communities in city centres by promoting dialogue and spreading peace and understanding. The very simple concept of offering chocolates along with a rose themed card as a peaceful gesture to people has certainly gone from a very local idea to something which has become a international event. A coordinated event initiative, born in the UK in 2012 has now spread across the world and is now a global phenomenon. This year a vast number of British cities joined locations and towns as far as Fiji in the pacific, down to Auckland in New Zealand in celebrating the "Mawlid in the City". Events were held in Norway, Sweden, Italy, Indonesia, Guyana, Trinidad and Germany just to name some of the countries now involved in this international effort for spreading true Islamic values of peace and understanding.
Held simultaneously and coordinated via social media, Muslims all round the world walked into cities centres, villages and towns giving roses, chocolates and cards containing messages of peace and mercy.
Many photos and videos were posted online with social media abuzz with activity throughout the weekend. One of the messages on the cards was Michael Harts quote in his book titled "The 100: A Ranking of the Most Influential Persons in History", writes, "My choice of Muhammad to lead the list of the most influential persons may surprise some leaders and may be questioned by others, but he was the only man in history who was supremely successful on both religious and secular levels"
The project has now achieved international acclaim with Capstone publishing in the United States inserting a section on "Mawlid in the City" in their latest edition of a children's book which is due out in the spring of this year. This then educates an entirely new generation of children on the shared human values of peace and mercy.
The organisation remains a virtual network of "Mawlid makers" around the world seeking to inspire other Muslims to engage in such efforts. The aim is to encourage Muslims everywhere to lead a peaceful revolution across the world in some of the most difficult social times faced by mankind. The network aims to achieve its lofty ambitions with the proliferation of the true message and teachings of the Prophet Muhammad, known to Muslims as a mercy to the worlds.
Further events remain in the planning and will be communicated throughout the year.