 Over 80 Children Murdered in School Massacre
(Reuters) – At least 126 people were killed, including 84 children, and 122 injured in an attack by Taliban militants on a Pakistani high school, a provincial official said.
"It may rise," said Bahramand Khan, director of information for the Chief Minister's Secretariat. He said more than 100 of the dead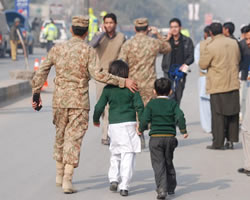 were school children.
Taliban gunmen are still holding hostage some children at a school they attacked on Tuesday morning, a Pakistani provincial  minister said, citing military sources.
"The chief minister of Khyber Pakhtunkhwa province has received information from the army officials that children are still being held hostage," Inayatullah Khan, the provincial minister for local government, told television.
A hall at the site had been cleared and efforts to clear the rest of the area were underway, he added. The Taliban have have said they attacked the school because they wanted revenge for the Pakistani military targeting their own families, a spokesman said.
"We selected the army's school for the attack because the government is targeting our families and females," said Taliban spokesman Muhammad Umar Khorasani. "We want them to feel the pain."
Police were struggling to hold back distraught parents trying to break past a cordon and get to the school when three loud explosions went off, police officials told Reuters.