 15-Year-Old Patient Lays into Rivals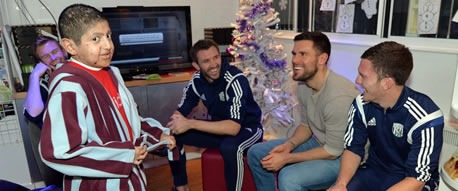 PICTURED: Gareth McAuley, Ben Foster and Craig Gardner with Moin Younis, 15, from Handsworth, at the West Bromwich Albion players' visit to Birmingham Children's Hospital
On their recent visit to Birmingham Children's Hospital, West Bromwich Albion were confronted by a different kind of attack – the cheeky banter of a 15-year-old Aston Villa fan.
Albion play rivals Villa this weekend, so patient Moin Younis thought he would take the opportunity to wind the players up.
Moin, 14, has a rare life-limiting condition Epidermolysis Bullosa, or 'EB' – a genetic condition in which blisters form both internally and externally on his body from the slightest knock or rub.  Because of this, he uses the services of Acorns Children's Hospice. That hasn't stopped him following the claret and blues – and he has a season ticket in the Doug Ellis Stand.
Stood on his claret and blue Aston Villa dressing gown and engaged in friendly banter with Gareth McAuley, Ben Foster and Craig Gardner before laying into Joleon Lescott.